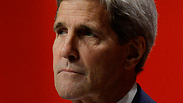 US Secretary of State John Kerry
Photo: EPA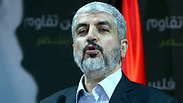 Hamas's Qatar-based political leader Khaled Mashal
Photo: AFP
US Secretary of State John Kerry will not stay in the Middle East indefinitely trying to broker a ceasefire to halt the Gaza conflict and will decide soon whether the parties are willing to come to an agreement, a senior US official said on Thursday.

Meanwhile, Hamas's Qatar-based political leader Khaled Mashal reiterated the terrorists groups demands for a lull in fighting, saying that without international assurances Israel will lift the blockade on Gaza no ceasefire can take place.

"Gaps remain between the parties, so his focus is on finding a formula that both sides can accept," said the senior US official.

"But he isn't here for an indefinite amount of time and in the near future he will determine whether there is a willingness to come to an agreement on a ceasefire."

"Secretary Kerry will stay in Egypt through at least tomorrow morning to continue working on achieving a ceasefire," the US official said, adding he had spoken by telephone in the last 24 hours with Prime Minister Benjamin Netanyahu and with the foreign ministers of Britain, Egypt, France, Germany, Jordan, Norway, Turkey and Ukraine.

He also spoke to EU foreign policy chief Catherine Ashton and was due to meet UN Secretary-General Ban Ki-moon in Cairo later in the evening, the US official added.

"The focus of his conversations is on determining whether there is a way to stop the fighting and commence negotiations necessary to achieving a sustainable ceasefire and enduring resolution to the crisis in Gaza," the US official said.
Mashal: Death is better Gaza life
Meanwhile, speaking to CNN, Mashal said "Nobody can break the will of the resistance and no one can get rid of its weapons.

"Only two conditions can get rid of the weapons of the resistance - firstly the ending of the occupation and second the demilitarization of Israel."

As CNN noted, obviously these are impossible demands, but Hamas' position is that "We would rather be dead than live this life," Mashal reportedly said, adding that "We will not accept any proposal that does not lift the blockade."

Nonetheless, speaking to the BBC, Mashal blamed Israel for the situation and said Gazans were "being punished with a slow death in the world's biggest prison".

"We are eager that the bloodshed should end in Gaza," the political leader said, claiming the demand was "parrell to lifting the siege on Gaza."
UK backs Israel
Mideast trip Thursday that Hamas must agree to a humanitarian ceasefire without conditions in Gaza, to bring to an end more than two weeks of fighting. After that, Hammond said, said Israel and Palestinian Authority could come together to hold talks.
"Hamas must agree to a humanitarian ceasefire without preconditions for the sake of the people in Gaza," Hammond said during a news conference after meetings with Egyptian officials. "We are greatly concerned by ongoing heavy humanitarian crisis and the loss of lives."
Hammond was speaking in Cairo, his latest stop on a emergency Mideast trip as part of ongoing international pressure for the fighting between Israel and Hamas in Gaza to end. US Secretary of State met Wednesday with Prime Minister Benjamin Netanyahu after talks in Cairo. UN Secretary-General Ban Ki-moon has also paid a visit to the region in recent days.
Speaking earlier Thursday after meeting with Hammond in Jerusalem, Netanyahu slammed the UN Human Rights Council's decision to open an investigation into Israel's alleged human rights violations in the Gaza Strip.
"It's a travesty of justice; it's a travesty of fairness; it's a travesty of common sense; it's a travesty of truth," the prime minister told Hammond.
Netanyahu told the recently-appointed British foreign secretary how Hamas terrorists were firing rockets from schools, mosques, hospitals and heavily civilian populations, calling it a "double war crime."
"This use of human shields is extraordinarily cynical. It's grotesque. It's inhuman. But what is equally grotesque is that Israel was condemned in the Human Rights Council," he said.
Reuters and Ynetnews contributed to this report