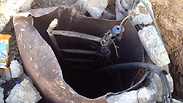 Smuggling tunnel in Gaza
Photo: IDF Spokesperson's Unit
A senior military source confirmed Friday morning that the IDF had attacked 130 targets in Gaza over the last 24 hours bringing the total in Operation Protective Edge to 3,540.

"Since the beginning of the ground operation we've killed 240 terrorists. Our forces are reporting complete control in the field. There are terrorists who are betraying themselves and handing over their weapons after days of staying in the tunnels," said the source.

Overnight between Thursday and Friday, soldiers from the Paratrooper Brigade identified three terrorists as they emerged from a shaft from a smuggling tunnel. The military source said that one of them was killed in a brief firefight.

"There is no day and hour set for the completion of destroying the tunnels," said the military source. Every tunnel has its own unique story and we can't obligate ourselves to another seven or 11 days. It depends on the location of the tunnuel and if it comes out in an urban environment or in an open area. Destroying the tunnels is an action that takes time."

Two wounded soldiers were also evacuated by helicopter to Soroka Hospital in Be'er Sheva overnight. One was critically wounded and the other was in serious condition.

Soroka Hospital confirmed that 36 soldiers, two of whom remain in critical condition, are currently being treated at the hospital. Five of them were seriously wounded and the rest were hospitalized in light to moderate condition.

While fighting in the Gaza Strip was relatively calm Thursday night, riots erupted in East Jerusalem where 39 were arrested for disturbing the peace. Ten Thousand people took to the streets in the riots against the IDF's Operation in the West Bank in which medical sources from Gaza say over 800 have been killed so far.

Ilana Curiel contributed to this report.