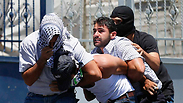 Rioting in East Jerusalem
Photo: Reuters
Five Palestinians were killed in the West Bank on Friday in shootings involving both Israeli forces and a civilian who appeared to be a Jewish settler, Palestinian medics and witnesses said.

Witnesses said the person believed to be a settler shot dead one man and wounded three others in Huwara near the city of Nablus as a protest against the ongoing conflict in Gaza. The victims were walking along a main street used by both Palestinian and settlers.

Clashes between the Border Police and Palestinian youths throwing Molotov cocktails and fireworks escalated. A Reuters photographer witnessed the forces shoot and kill another man.

The casualties in Huwara were identified as Khaled Azmi Khaled Yousef, 18, and Tayeb Abu Shehada, 22.

IDF sources said that some 200 Palestinians were throwing burning tires and stones at the Israel troops at the scene. The sources said an Israeli settler fired in the air and was then taken for questioning.

Settlers said the Border Police troops were attacked by the Palestinian protesters in Huwara. The troops apparently responded with fire and reportedly shot two persons dead.

Shortly after that, hundreds of Palestinians came out of mosques in Huwara and starting throwing stones and pieces of iron, and fire fireworks at vehicles. A man and a woman who were in one of the vehicles fired in the air and managed to escape.

The army said the incident was still under investigation and it is yet unclear who was behind the fatal shooting.

Two additional Palestinians were killed during separate clashes in Beit Ummar near the flashpoint city of Hebron, medics said. They were identified as Hashem Abu Maria, 47, and Sultan Al-Zaaqiq, 30.

Israeli forces shot and wounded two protesters and a local journalist approaching a military checkpoint near a settlement beside the West Bank city of Ramallah.

Abu Maria is a known operative in the Popular Front for the Liberation of Palestine, and some of his family members belong to the Popular Resistance Committees.

Palestinians clashed with police in Wadi Joz in East Jerusalem as well. They threw stones and lit trash bins on fire. Two policemen were lightly wounded. Police used crowd dispersal means and one of the rioters was arrested.

The clashes follow the killing of a Palestinian north of Jerusalem during a thousands-strong protest which was one of the largest since a Palestinian uprising which ended in 2005.

Palestinian anger fury has mounted after 832 Palestinians - mostly civilians, according to Palestinian medics - have been killed in nearly three weeks of cross-border fighting between Israel and Palestinian militants in Gaza for which the United States and regional powers urgently seek a truce.

Elior Levy, Noam (Dabul) Dvir and Itay Blumental contributed to this report.