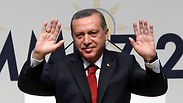 Turkish Prime Minister Erdogan
Photo: EPA
ANKARA - Relations between Turkey and Israel have hit their "lowest level" amid the Jewish state's assault on the Gaza Strip, and may not be able to improve for some time, Deputy Prime Minister Bulent Arinc said.
Arinc, one of the founding members of Prime Minister Recep Tayyip Erdogan's Islamist-influenced AKP party, said Turkey had always calibrated its relations with Israel according to Israel's behavior towards the Palestinians.
"Our relations have always been reduced to a minimum whenever Israel continued occupation, dropped bombs in Palestine and carried out massacres," he told AFP in an interview in Ankara on Thursday.
Israel has withdrawn most of its diplomatic staff from Turkey after violent protests against its missions while Erdogan has enraged Israeli leaders by describing the Gaza assault as a genocide.
"The lowest level (in relations) right now will maybe continue for a while," said Arinc.
Before Israel began the Gaza assault to stop Hamas rocket attacks, Arinc was leading talks on normalizing ties between the two countries after the deadly storming by Israel commandos of the Mavi Marmara ship carrying Turkish activists and humanitarian aid to Gaza in 2010. Ten Turks died in the raid.
The ensuing outcry in Turkey led to a degrading of diplomatic relations between the former allies to below ambassador level.
Arinc said Israel had been holding up the signing of the final deal. Then came the Gaza offensive, which according to Erdogan has now put normalizing ties off the agenda.
"Gaza is being bombarded, it is a big tragedy. In these circumstances the normalization of relations between Turkey and Israel at the level of ambassador does not seem possible," said Arinc.
Arinc added that relations between Turkey and Israel ebbed and flowed according to Israel's treatment of the Palestinians, ever since Turkey recognized Israel in 1949.
"Turkey has always displayed a principled stance towards Israel," he said.
Turkey, a member of the US-led NATO military alliance, was once Israel's closest regional ally but has become one of its most vitriolic critics, with Erdogan last weekend accusing it of "surpassing Hitler in barbarism" with its Gaza offensive.
In an interview with CNN on Thursday, Turkish Prime Minister Erdogan stood by his comments likening Israel's actions to those of Hitler and said the Jewish state was committing genocide.
"It is beyond comprehension that Israel is still defended by the West and the world is silent about it. Therefore we cannot remain silent and we will not be silent," Erdogan said.
Reuters contributed to this report.