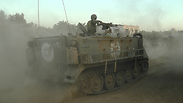 An Israeli APC moves between units providing medical care
Photo: Yoav Zitun
Two IDF soldiers were killed in action Friday as Israel continued its military ground operation inside the Gaza Strip. The additional deaths brought the total of soldiers and officers killed in Operation Protective Edge to 37.

Cleared for publication Saturday morning, the army also said that the families of the fallen soldiers had been informed.

Staff Sergeant Guy Boyland (21) from Kibbutz Ginosar, served as a combat soldier in the IDF's Engineer Corps. The sergeant fell in combat with militants in the area of central Gaza.

The name of the second soldier who was killed has yet to be cleared for publication.

Another IDF soldier was killed on Friday in the central Gaza Strip, the IDF spokesman said. The IDF named the soldier as Staff Sgt. Guy Levy, 21 from Kfar Vradim, an Armored Corps combat soldier.

Also on Friday, just before the beginning of Shabbat, thousands made it to the Rehovot funeral of Sergeant First Class (res.) Yair Ashkenazi who was killed in the early morning hours of Friday during operational activity in the northern Gaza Strip.
Operations Continue
IDF operations in the Gaza Strip continued overnight between Friday and Saturday, when three additional soldiers were seriously wounded in combat and 13 were moderately wounded. Nineteen more were lightly wounded.

The soldiers were wounded in combat as the IDF continued hitting targets in the Gaza Strip overnight, opening day 19 of Operation Protective Edge with as much action as ever.

Palestinian medical sources reported that eight people were killed in an IAF attack in Khan Younis in the south of the Gaza Strip. The official sources said that four children were among those killed while an additional 20 people were wounded in the attack.

Additionally, Israeli tank shelling killed 18 Palestinians from a single family in the southern Gaza Strip on Saturday, the Gaza health ministry said.

Gaza Health Ministry spokesman Ashraf Al-Qidra said that the 18 members of the Al-Najar family had been trapped inside their house in Khuzaa village east of Khan Younis since Thursday and that many others were wounded in Israeli tank shelling.

The fatalities brought up to 881 the number of Palestinians, most of them civilians, killed since the Israeli Gaza offensive began on July 8.

The IDF reported Saturday that over 155 targets had been hit in Gaza over the previous 24 hours. Since the beginning of Operation Protective Edge, more than 3,670 targets have been attacked in the Gaza Strip.

Meanwhile, rocket fire from Gaza also continued overnight. At approximately 2am, an Iron Dome missile defense battery successfully shot down three rockets over the southern city of Ashkelon.

Code red sirens also blared overnight in the Hof Ashkelon and Sha'ar HaNegev Regional Councils, but no injuries or damage was reported as a result of the attacks.

Reuters contributed to this report.