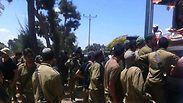 Soldiers next to the Chef's truck
Shalom Lahmi, manager at the restaurant 'The Salon', has found himself playing a unique role in Israel's Operation Protective Edge thanks to a special asset that's putting a smile on the faces of the IDF combat soldiers in the Gaza Strip.

Lahmi's truck was originally meant to provide gourmet meals on-the-go, capable of going off road to provide food at outdoor events across the country. In light of Operation Protective Edge, Lahmi volunteered to use his truck to provide hot food cooked by a professional chef to IDF soldiers on the Gaza border who would otherwise be making do with combat-ready meals.

"When I started building the truck three months ago, the only thing I wanted was to give chefs the opportunity to cook in the field," said Lahmi. "I haven't even had the chance to use it (the truck) because the fighting started in the Gaza Strip. For me, this is a chance to contribute to the country and the IDF soldiers."

The truck entered one of the kibbutzim near Gaza with a military escort for safety over the weekend. Lahmi's cooking supplies were taken from restaurants from across the country and the chefs who cook at his truck are volunteers.

"I wasn't this excited when I cooked for Shimon Peres," said Chef Roie Levy from the restaurant 'Secret Place'. "When you see what the soldiers are doing here, it's hard to remain indifferent."

"The best thing to do is to put a smile on their faces," Levy continued. "All of the suppliers have done their part and we've already fed the soldiers here (what amounts to) tens of thousands of shekels."

The chef's truck isn't the only donation going to soldiers fighting in the Gaza Strip. Since the beginning of the operation, many volunteers have come to the area from across Israel with food, clothes, and even portable showers for the soldiers. In addition, soldiers have received many packages from children and families across Israel.