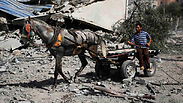 Taking stock of the damage in Gaza
Photo: Reuters
BEIT HANOUN, Gaza Strip - Across Gaza, more than 146 bodies were pulled from the rubble Saturday, officials said during a 12-hour ceasefire with Israel.

Israeli tank fire killed a man in the southern Gaza Strip, a local official said, announcing the first fatality after the breakdown of the ceasefire, caused by Hamas' refusal to accept Israel four hour extension. Since then, Israel has agreed to renew the break until midnight Sunday.

In southern Gaza, 20 members of an extended family were killed before the start of a 12-hour ceasefire when a tank shell hit a building where they had sought refuge, Palestinian health official Ashraf al-Kidra said.

In the northern town of Beit Hanoun, the main road was impassable in parts due to the debris from the damaged homes. The town's hospital had been hit by a tank shell, power lines were dangling and dead donkeys were strewn on the street. A man was hitting his head and wailing "my house, my house."

Video: Inside devastation in Gaza

More than 1,000 people, mainly civilians, have been killed and more than 6,000 have been wounded over the past 19 days, al-Kidra said. Israeli strikes have destroyed hundreds of homes, including close to 500 in targeted hits, and forced tens of thousands of people to flee, according to Palestinian rights groups.

More than 160,000 displaced Palestinians have sought shelter at dozens of United Nations schools, an eight-fold increase since the start of Israel's ground operation more than a week ago, the U.N. said.

Israel says it is doing its utmost to prevent civilian casualties, including sending evacuation warnings to residents in targeted areas, and blames Hamas for putting civilians in harm's way. Israel has lost 40 soldiers and two civilians, and a Thai worker also has been killed.

Sitting outside a shop on the main road near a pile of rubble, 37-year-old Siam Kafarneh was crying. The mother of eight said the home she had moved into two months earlier and spent 10 years saving for had been destroyed.

"Nothing is left. Everything I have is gone," she said.

Some Gazans expressed took stock of the devestation and called for a more permenant solution to be reached.

"We are looking for a long cease-fire, not only 12 hours," said Gaza resident Mohammad Abu Shaaban. "We hope the cease-fire will continue and not to return back to the killing and destruction."

Ambulances of the Red Crescent reached the hardest-hit areas, including Beit Hanoun and the eastern Saja'iyya district of Gaza City, to recover bodies buried under the rubble.

In two border areas, ambulances were unable to approach because tanks fired warning shots at the vehicles, the Red Crescent said.

In the southern town of Khan Younis, 20 members of the same extended family, including at least 10 children, were killed by tank fire that hit a building on the edge of town, said Palestinian health official Ashraf al-Kidra.

The house partially collapsed and people were buried under the rubble. The family had recently moved into the building after fleeing fighting in a nearby village, said al-Kidra.

Hundreds of men marched in a funeral procession in Khan Younis Saturday afternoon while carrying the bodies, all wrapped in white cloth and some with bloody stains. The men took turns carrying them while chanting in unison, "there is only God."

In Beit Hanoun, the streets were filled at midmorning with frantic residents, many of whom had walked several miles from temporary shelters to inspect the damage to their homes and retrieve belongings. Ambulances with wailing sirens and donkey carts loaded with mattresses and pots soon clogged the streets.

At the Beit Hanoun hospital, six patients and 33 medical staff had spent a terrifying night huddled in the X-ray department as the neighborhood was being shelled, said director Bassam Abu Warda.

A tank shell had hit the second floor of the building, leaving a gaping hole, and the facade was peppered with holes from large-caliber bullets.

On Saturday morning, the remaining patients were evacuated from the hospital, including 85-year-old Nasra Naim.

The elderly woman and a second patient were resting on mattresses on the ground floor of the hospital, amid debris and glass shards. Naim said her home was destroyed in the shelling.

"I don't know where to go," she said. "They (Israelis) killed our children, they took our land and now they are still following us."

After the temporary truce took effect at 8am Saturday, the streets of Gaza quickly filled with residents trying to stock up on supplies or returning to devastated areas to inspect their homes.

Gaza residents used the lull to withdraw cash from banks and restock on groceries and other goods. As residents grabbed what little of their belongings they could from the wreckage in Beit Hanoun, two armed, masked fighters silently walked by - a rare sight in Gaza.

Reuters contributed to this report.