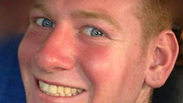 Staff Sgt. Guy Boyland
Photo courtesy of the Boyland family
The family of Staff Sergeant Guy Boyland (21) from Kibbutz Ginosar, were in morning Friday and Saturday after the army notified them of Boyland's death amid combat in Gaza. Boyland served as a combat soldier in the IDF's Engineer Corps.

Boyland's Aunt, Rotem Gofar, said that that the news fell on the family like lightening on a clear day. "We didn't have any contact with him over the course of three weeks since the beginning of the Operation. Guy is an amazing child. He was brave and a fighter who loved the army. There are no words to describe the grief and the loss."

Guy was born in New Zealand and moved to Israel with his parents Glenn and Edeva when he was two-years-old. "He was a wonderful child, full of humor," said his aunt. "He played guitar and made a band with his friends. We are all hoping that this war will end and bring peace. There are no words to describe the grief and the loss, not only for him, but for all those who have died."

Boyland's former teacher Dror Yifrat had been planning on visiting the family of another fallen soldier on Saturday until he received a telephone call informing him of Guy's death.

"The feeling is terrible," said Yifrat. "Guy was a teenager who was full of energy and a love of life. Music was his whole world. He was one of four friends who played together. This is a very big loss. I can't even accept that this has happened."

Boyland's funeral will be held on Sunday at 5pm at Kibbutz Ginosar.

It was also confirmed Sunday morning that another soldier had been killed on Friday, but the circumstances of his death as well as his name, still have not been cleared for publication.

A third IDF soldier was killed on Friday in the central Gaza Strip, the IDF spokesman said. The IDF named the soldier as Staff Sgt. Guy Levy, 21 from Kfar Vradim, an Armored Corps combat soldier.

Also on Friday, just before the beginning of Shabbat, thousands made it to the Rehovot funeral of Sergeant First Class (reservist) Yair Ashkenazi who was killed in the early morning hours of Friday during operational activity in the northern Gaza Strip.