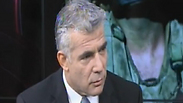 Yair Lapid talks to Ynet
Photo: Vladimir Rotenstein, Uri Davidovich
Finance Minister Yair Lapid on Sunday told Ynet that a ceasefire with Hamas in Gaza does not mean that Israel will halt its mission to track down and destroy the massive underground network used by terror groups to move weapons and carry out attacks.

"During the humanitarian ceasefires we keep dealing with the tunnels, we don't stop, we just offer a chance to collect the dead and stock up on food," Lapid said during an interview at the Ynet studio.

"We don't stop dealing with the terror tunnels for a minute, and when they fire on us, we fire back. We are pounding Hamas and will continue to do so, and as soon as they raise their heads above the parapet they get hit. Hamas is being hit as never before, neither in Cast Lead nor in Pillar of Defense."

Yair Lapid talks to Ynet (Hebrew) (צילום: ולדימיר רוטנשטיין ואורי דוידוביץ')

Lapid also branded the noticeably absent Hamas leadership as cowards who are content to let civilians die while they take cover.

"They do not leave their bunkers, because we will kill them. At the moment, they are underground in their burrows, with the children of Gaza placed over their heads. They are hiding in the tunnels because they are cowards. There's a reason why they haven't come out of their bunkers until now. They deserve to die."

IDF troops destroy Gaza terror tunnels (צילום: דובר צה"ל)

The security cabinet was set to meet at 5 pm to discuss the future of the military operation against Hamas, and once again there is growing pressure on the prime minister from the right to continue, in order to wipe out the terror in Gaza.

"Everyone is waiting to see if Israel has worked up enough courage to defeat Hamas once and for all," said Economy Minister Naftali Bennett on Sunday. "I believe that the security cabinet, led by our prime minister, Benjamin Netanyahu, will make the right decision."

Although it continued firing rockets and despite the militant opposition to a ceasefire without acceptance of its demands, Hamas turned to UN Middle East envoy Robert Serry and asked for a humanitarian truce, after the one that began Saturday morning and was broken by Hamas. Serry's message on the issue was transferred to the relevant parties in Israel, and political sources in Jerusalem confirmed that Israel had been approached by Hamas through the UN envoy.

Israel has responded by saying that Hamas should declare a ceasefire, and only then will the request be considered.

Hamas then announced it has accepted a 24-hour humanitarian ceasefire in the Gaza Strip, to take effect from 2 pm Sunday.

"In response to a request by the UN, and as part of our efforts to consider the citizens of Gaza and allow them aid, the resistance factions agreed to the move," said Hamas spokesman Sami Abu Zuhri.