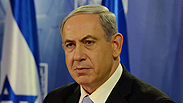 Prime Minister Netanyahu
Photo: GPO
Prime Minister Benjamin Netanyahu urged Hamas on Sunday to accept the Egyptian ceasefire initiative, and said the path to restoration of calm in Gaza is an "intertwined" system of demilitarization of Gaza and "social and economic relief" for the Palestinian people there.
Netanyahu then blamed Hamas for breaking two UN-mediated ceasefire efforts in an interview with CNN on Sunday. "Hamas doesn't even accept its own ceasefire, it's continuing to fire at us as we speak. We had a ceasefire, they violated it, and now they're violating their own ceasefire."
Hamas said it had offered a 24-hour "humanitarian calm" period that had been due to start at 2pm local time (11am GMT) on Sunday.
However, as 2pm came and went, the sound of heavy Israeli shelling could be heard within Gaza and sirens sounded in Israeli communities near the border area, suggesting Palestinian militants had fired missiles at them.
The Israeli leader stressed that he would do "whatever is necessary to protect our people, what every country would need to do to defend its own people." Netanyahu emphasized the threat posed by Gaza militants both via terror tunnels and rocket fire and said "Israel is taking action to neutralize this threat."
He declined to detail Israel's future plans for the operation in Gaza, which began on July 8. But, he said, Israel was intensively targeting Hamas subterranean network used to transport weapons and launch terror attacks inside Israel.
Some 1,060 Palestinians, mainly civilians and including many children, have been killed in the 20-day conflict in Gaza between Israel and Hamas. Israel says 43 of its soldiers have died, along with three civilians.
In an interview on "Fox News Sunday," Netanyahu said Hamas had broken five cease-fires that Israel had accepted and implemented.
"They rejected all of them, violated all of them, including two humanitarian cease-fires in the last 24 hours," Netanyahu said.
He told NBC's "Meet the Press" program that going forward a peace initiative being brokered by the Egyptian government "is the only game in town."
He added that Israel's goal was the "demilitarization of Gaza."
Reuters contributed to this report.