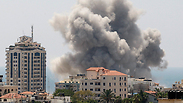 IDF bombardment in Gaza
Photo: Reuters
The IAF attacked over 20 terrorist targets in the Gaza Strip on Sunday in between humanitarian ceasefires, including smuggling tunnels, rocket launchers, and terrorist infrastructure.
The IDF destroyed several smuggling tunnels in the south of the Gaza Strip and forces in the north have almost completed eliminating another. In addition, three more shafts leading into the tunnels were discovered.
Fighting subsided in Gaza on Sunday after Hamas said it backed a 24-hour humanitarian truce, but there was no sign of any comprehensive deal to end their conflict with Israel.
Hamas said it had endorsed a call by the United Nations for a pause in the fighting in light of the upcoming Muslim holiday of Eid al-Fitr, expected to start in the next couple of days.
An IDF official said the army was instructed to hold its fire at 2pm, but the Palestinians reported that around 6pm, a vehicle belonging to the Bani Suheila municipality in the Khan Younis area was attacked, with one Palestinian being killed and several wounded.
Israeli artillery guns also fired barrages into the Gaza Strip, Israeli media reported, although the object of the fire was initially unclear.
Nonetheless, Gaza Strip residents and Reuters witnesses said Israeli shelling and Hamas missile launches had slowly subsided through the afternoon, suggesting a de facto truce might be taking shape as international efforts to broker a permanent ceasefire appeared to flounder.
Error in body count
Palestinian sources downgraded Sunday the number of Palestinians in the Gaza Strip killed since the start of the Israeli offensive, with 1,031 deaths rather than some 1,060 announced earlier.

This error was caused by a problem in counting the number of bodies found in the rubble of the hardest hit zones during the truce Saturday, said spokesman relief, Ashraf al-Qodra.

"After a thorough examination of the bodies or parts of bodies from the rubble Saturday in eastern Gaza, and after their identification by the families, it is confirmed that the number of bodies that were unearthed during the truce is 117 and not 147," he said.

"The total death toll stood at 1,031 dead and 6,233 wounded," he concluded.

Palestinian medics said at least 10 people had died in the wave of strikes that swept Gaza on Sunday, including a Christian woman, Jalila Faraj Ayyad, whose house in Gaza City was struck by an Israeli bomb.

Four were killed in the Nuseirat refugee camp in the center of the Strip, two others in Khan Younis, another east of Khan Younis.

A Palestinian child wounded in the Maghazi refugee camp succumbed to his wounds in a hospital in Egypt on Sunday. 192 of the Palestinian casualties in the operation so far have been children.

Yoav Zitun, Reuters and AFP contributed to this report.