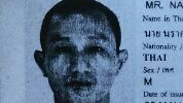 Dozens of Thai workers arrived to the Hof Ashkelon Regional Council on Saturday to attend the wake of Narakorn Kittiyangkul, the 36-year-old Thai worker who was killed last week from a mortar shell that hit the Netiv HaAsara greenhouses.

A Buddhist monk arrived especially in order to conduct the ceremony that was attended by dozens of Thai workers.

Kittiyangkul was killed while working at a tomato greenhouse. He was having breakfast with his coworkers when a volley of mortar shells was fired at them. He was severely wounded and was declared dead several minutes later.

The wake was held in Israel before his body is taken back to Thailand for burial. During the ceremony, attendees lit candles, prayed and bowed their heads in front of Kittiyangkul's photo that was placed on a table decorated with flowers.

According to Thai tradition, the attendees and the monk that hosted the ceremony prayed for Kittiyangkul's soul.

Residents from Netiv HaAsara also attended the ceremony and took part in it.

"The Thai workers are a part of our society, a part of our community, and that's why we stand by their side in this difficult time, that is also a difficult time for us," one of the Netiv HaAsara residents said.

After the ceremony, Kittiyangkul's body was taken to the airport, from which it will be flown to Thailand, to be buried in his home village.

The head of the Hof Ashkelon Regional Council, Yair Farjon, said: "We are deeply saddened by the death of the Thai worker. He was a dedicated worker who paid a heavy price for something that was no fault of his. We send our condolences to the family."

Kittiyangkul, who has been working in Netiv HaAsara for about a month, was the third Israel civilian killed since the beginning of Operation Protective Edge.