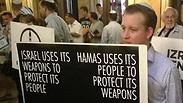 Budapest protest
Photo: Laci Molnar
Thousands of Hungarians gathered Sunday in Budapest's prestigious Dohány Street Synagogue to show solidarity with Israel and condemn the terror attacks against the Jewish state.
Ilan Mor, Israel's ambassador to Hungary, told the rally that Israel is at war against terror, and not Islam or the Palestinian people.
Sandor Nemeth, senior pastor of Faith Church underlined that Israel stands on the good side in this conflict. He also critized the radical Hungarian nationalist Jobbik party and its leader, Gabor Vona, who had slammed the Jewish state and called for boycott of Israeli products. Both Nemeth and Ilan Mor received standing ovations.
The well-attended demonstration was organized by the Faith Church and the Federation of Hungarian Jewish Communities (Mazsihisz), with many in attendance waving Israeli and Hungarian flags; others had banners condemning the continuous rocket attacks against Israel and denouncing Hamas terrorism.
The demonstration began after a slight delay, due to a lack of sufficient space for all of the attendees in the 3,000-seat synagogue. Many demonstrators were forced to remain outside, and followed the speeches from a screen erected for the occasion. A sizeaable police force was deployed in the nearby streets, but the event transpired peacefully. The only disturbance involved a group of about a dozen men dressed in black, who held up a banner reading "MURDERERS".
Among the keynote speakers was András Heisler, president of Mazsihisz, who conveyed a message of firm support for Israel.
"We show our solidarity with Israel and peace, we denounce every form of fundamentalism, we condemn the terrorizing of people and countries," he said. "We urge the Hungarian government to more forcefully condemn Hamas's terrorism, and to unequivocally support Israel's right to self defense.
Israel is at war against terror
Ambassador Mor also underlined Israel's struggle.
"It is not the Islamic faith or Palestinian people that Israel fights; rather, Israel is at war against terror. Israel's existence is a miracle, but we must fight for it, as the only democratic state in the Middle East," he said to thunderous applause.
"Israel is fighting Hamas's Nazism. When they shoot from densely populated civilian areas they commit war crimes. They have already shot 3,500 rockets at us: this too is a war crime. I express regret for victims, but Hamas is responsible, using the civilian population as human shields ".
'Israel on the good side'
"All decent people have to support Israel's struggle against the Islamists, because Israel is the only democratic state in the Middle East, and only a strong Israel can guarantee lasting peace in the region," stated Sandor Nemeth, senior pastor of Faith Church – Hungary's fourth biggest church.

"We are not promoting war or violence, we want peace. We came here to say it plain to say it loud: Israel is not fighting the Palestinian people, the democratic, Jewish state is only fulfilling its obligations towards its citizens, who rightfully expect their government to guarantee their right to exist, to security, and to a normal life. The Palestinian terrorists commit crimes against Israelis in order to destabilize the Jewish state. Israel stands on the good side in this conflict."

Nemeth also critized Jobbik and its leader, Gabor Vona, who had slammed the Jewish state and called for a boycott of Israeli products.

"Hamas uses the Palestinian people as human shields, to maximize the death toll from Israeli strikes. The anti-Semites and neo-Nazis in Hungary embrace and reiterate the Islamist lies, all while claiming to act as 'defenders of Christian values,'" he said.

"We ask our deluded fellow citizens to pay attention to the massacres committed by Hamas' Islamist siblings in Egypt, against the Copts, and in Syria and Iraq. So I ask Gabor Vona, how can he reconcile his close friendship to Iran, which hates the real foundations of our civilization, with his 'commitment to Christian values'? What is Jobbik doing on the side of the Islamists?"

Nemeth's challenge to Jobbik follows the radical nationalist party's participation in a series of demonstration condemning the Israeli operation against Hamas in the Gaza Strip. At a demonstration in Budapest, he called for Hungary to cut diplomatic ties with Israel, until the "State of Palestine" was liberated. Addressing the rally crowd of 200-300 people and sporting a Palestinian keffiyeh around his neck, Vona shouted "child murderers" and "executioners of Tel Aviv" in reference to Israel.

The Jobbik leader also bashed two other far-right parties in Europe, the Austrian Freedom Party and French National Front, for insufficiently condemning Israeli actions, and expressed hope to his audience that these ultra-nationalist parties could "disprove the rumors that sold their souls to the baby-murdering Israeli state". The Jobbik head also reiterated his call for Hungarians to boycott Israeli products.

Vona's call for boycott followed a previous rally organized by Palestinians living in Hungary on July 17, in which he spoke before an estimated 100-200 people. Addressing an audience that included many Jobbik MPs, he called for an end to Israel's "terror bombing" in the Gaza Strip.

The crowd, which included several prominent Jobbik MPs, carried posters reading "Death to Israel" and "Freedom for Palestine", while protesters chanted "Terrorist Israel" and "Zionist murderers".

Among the Jobbik lawmakers present was party deputy chairman Előd Novák, who carried a banner reading "Murdering children out of self-defense?", and Márton Gyöngyösi, the party's deputy parliamentary leader – who had proposed in a November 2012 parliamentary session that the government begin compiling a list of Hungarian Jews and screening them as possible national security risks.

Following Gyöngyösi's comments, at least 10,000 people braved the cold weather to attend an anti-Nazi demostration organized by Jewish and civic groups in Budapest.

Laci Molnar is a journalist-editor at ATV.hu, a major Hungarian news channel. He studied political studies and international relations. You can find him on Facebook and Twitter.