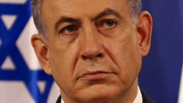 Netanyahu
Photo: Dana Kopel
Prime Minister Benjamin Netanyahu vowed on Monday evening that Israel would not end its Gaza operation without having "neutralized" all of the tunnels.

Netanyahu was joined by Defense Minister Moshe Ya'alon and IDF Chief of Staff Benny Gantz for a press conference in the IDF headquarters in Tel Aviv.

"We won't end the operation without neutralizing the tunnels, which were built for the purpose of destroying our citizens and killing our children," the prime minister said.




"This is the first step in demilitarizing the Gaza Strip. It has to be a part of any solution, and the international community must demand that," he added.

"There is no war most just than this. We knew we were going to have hard days. Today is one of those difficult and painful days," Netanyahu said, adding that "We must have patience and determination in our struggle against a murderous terror organization that seeks to annihilate us."

"A situation in which the citizens of Israel live under threat of death by rockets and terrorists infiltrations from tunnels cannot be. Death from above and death from below," he went on to say.

Netanyahu has stressed that Hamas has violated all of the humanitarian ceasefires and rejected all truce offers on the table.

"We're faced with a cruel enemy that is not only cruel towards us, towards our citizens, but also towards its own citizens, and uses its civilians so they can make more and more sacrifices, while Hamas is trying to kill us," Netayahu said.

"We won't compromise on the safety of the citizens of Israel," Defense Minister Ya'alon said. "We will continue striking Hamas in the coming days, destroy its terror targets, hurt its operatives, demolish its tunnels and destroy its infrastructure."

"If the Hamas leadership believes it could have a ceaseless conversation of missiles, rockets and terror attacks - they are utterly wrong. If the terror organizations in the Gaza Strip feel like they could break the state of Israel and its citizens - they will understand in the coming days that this is not the case," Ya'alon went on to say.

IDF Chief of Staff Gantz described a "very significant, wide, deep and obvious blow to Hamas' entire infrastructure."

Gantz said that "we're handling its tunnels network that are spread out across the entire area, down the entire border, with difficult but determined fighting. We're taking one step at a time, one shaft after the next, one tunnel after another, one firefight after the next, and this operation is advancing excellently."