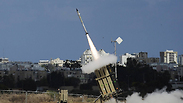 Iron Dome launches interceptor missile
Photo: AFP
A group of Chinese hackers broke into the computers of three firms involved in the development of the Iron Dome missile defense system and stole massive amounts of sensitive documents pertaining to the Israeli invention, the blog covering computer crime "KrebsOnSecurity" claimed. According to the report, the cyber attacks took place between 2011 and 2012.

According to Cyber Engineering Services (CyberESI), the intrusions occurred between October 10, 2011 and August 13, 2012. The hackers operating from China infiltrated the networks of companies Elisra Group, Israel Aerospace Industries and Rafael Advanced Defense Systems.

The CyberESI report stated that the hackers were able to steal a vast amount of information from all three companies, including information related to the "Arrow 3" anti-ballistic missile, drones and ballistic missiles.

CyberESI's CEO Joseph Drissel said that the manner in which the information was stolen and the industry that the three companies operate in suggest that the Chinese hackers were searching for information related to the Iron Dome system.

The website reported that companies Elisra and Rafael did not comment on the report, while a spokesperson for Israel Aerospace Industries stated that it was "old news", but upon being asked to expand on similar infiltrations, was unable to point to particular incidents.

According to CyberESI, the attack bears a strong resemblance to "Comment Crew", a group of hackers that receive funding from the Chinese government and stole a large quantity of information from American security companies and corporations.

The Iron Dome missile defense system, developed by the Haifa-based Rafael Advanced Defense Systems, can intercept and destroy short-to-medium-range rockets and artillery shells fired from distances of 4-70 kilometers away.

Israel had seven Iron Domes set up to shoot down missiles when cross-border fighting with Hamas-led militants surged on July 8, and has since brought two more into service, Israel's Defense Ministry said.