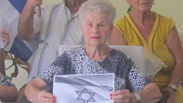 A donor who contributed money to the IDF
Photo: Courtesy of Amigour
Thousands of elderly people, including Holocaust survivors, collected some 100,000 shekels for the purchase of equipment and food for IDF troops currently stationed in the Gaza Strip and for those who were wounded in action and have been hospitalized.

The donors, who live in Amigour sheltered housing facilities and live off allowance provided by Bituach Leumi (The National Insurance Institute) emphasized that "each of the soldiers could be our grandson".

'It's the least we can do', donors say.

Frieda Plerdman (90) from Ashkelon, donated NIS 40 in hopes that she will "make the lives of soldiers easier and give them as much love and warmth as I can." She tied between her deed and the time she donated blood during World War II in a military hospital in Tbilisi, adding that "now we must contribute to soldiers that are protecting us. My husband was a pilot, he fought for four years during the war and was seriously wounded. For me, donating is not a mitzva but rather a duty."

Seventy-three-year old Liza Rosenberg, who was born in a ghetto in Ukraine, donated NIS 150 to the soldiers, "to feel like I gave a part of myself, something small towards advancing and bringing peace." Rosenberg, a grandmother of three grandchildren, said that during World War II "we were housed in filthy shacks, without mattresses, so we slept on the floor. It was very cold and we were always hungry.

"My mother told me that all the adults helped her save me from death and shared their food and drink. Today, I feel the need to give at least a small part of myself to society and to the soldiers that are fighting for us in Gaza."

"Each of the soldiers are my grandchildren, no matter what language they speak or what color skin they have. Every one of them is dear and beloved."

"I know what it's like being a mother of a combat soldier," said 76-year-old Sonia Balkin from Amigour's Orot Sheltered Home in Be'er Sheva. She donated NIS 100 "to be part of this campaign," explaining that her 40-year-old son served in the Nahal Brigade on the border of Lebanon. "He was called up for reserve duty every year and served in Gaza during Operation Cast Lead. I want to give strength to all the mothers. It's very important to donate to soldiers, so that they feel the love from the nation."

Boris Kinzborski (76) from Be'er Sheva, donated NIS 40 "to give the soldiers the feeling that the people of Israel are thinking about them. I served as an officer and a military doctor in the Red Army in the Soviet Union. It's the least we can do in this difficult atmosphere of war. As long as there's a continued threat to Israel's existence, we must all pitch in order to protect it."

CEO of "Amigour" Yuval Frankel noted that "every half an hour, I get a message from a different senior center telling me of a collection of money. From Nahariya in the north to Be'er Sheva in the south, the elderly people are generously donating from their meager savings to support the soliders."