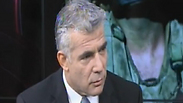 Finance Minister Yair Lapid
Photo: Vladimir Rotenstein, Uri Davidovich
Finance Ministry: State budget can handle Gaza fighting
Knesset research center says state will have to reimburse citizens economically hit by Gaza fighting by over NIS 1 billion. Analysts suggest economic effects of Protective Edge will harm tourist industry, but overall economy likely to bounce back quickly.
The cost of compensating Israelis whose businesses or homes were damaged during Operation Protective Edge is valued at roughly a billion shekels, claimed a document penned by the Knesset's Government Research Center.

Finance Ministry Director General Yael Enderon said Wednesday that "the 2014 budget can withstand the costs of fighting." The ministry further claimed that despite the fighting, no serious change is expected in Israel's forecasted growth rate. However, with the expected cost of Israel's Gaza operation in the billions of dollars, it will temporarily hurt economic growth and put pressure on the government's finances, analysts claim.

Analysts and officials compare the current operation to a one-month war between Israel and Hezbollah guerrillas in Lebanon in the summer of 2006, as well as to conflicts in Gaza in 2009 and 2012, when the economy took a hit but bounced back quickly, except for tourism.

The central bank reckons the fighting, provided it remains contained to Gaza, may knock at most half a percentage point of this year's economic growth.

"There will be a cost but nothing disastrous," said economic and financial consultant Barry Topf, an adviser to former Bank of Israel Governor Stanley Fischer. "It could be contained but you need good economic policy."

That, he says, means Israel cannot be too complacent that recovery will be automatic, since some foreign investors may start to balk at investing in a country subject to rocket fire.

Israel launched the offensive in Hamas-controlled Gaza three weeks ago to try to stop the rockets. What began with air strikes has turned into a ground war that Prime Minister Benjamin Netanyahu said could take a while.

The Bank of Israel cut its benchmark interest rate to 0.5 percent on Monday from 0.75 percent, partly to offset economic damage from the conflict.

The central bank said it was too early to gauge the economic effect of the latest conflict, but similar events in the past decade such as the 2006 Lebanon war had only "a moderate macroeconomic impact, up to about 0.5 percent of GDP".

"If we can learn anything from similar occurrences in the past, and hoping that the current event doesn't stretch so much longer, we don't expect it to have much impact on economic activity," Deputy Bank of Israel Governor Nadine Baudot-Trajtenberg told Reuters on Tuesday. "It's not a trigger for weakening growth."

Security alerts due to rocket attacks and frequent air raid sirens have disrupted business activity and caused a drop in industrial output and consumer spending.

"It's definitely going to cost more than 10 billion shekels ($2.9 billion)," said Ofer Shelah, a member of parliament's finance committee, citing military and civilian costs.

Ynet's sister print publication, Yedioth Ahronoth, estimated the operation has so far cost 12 billion shekels, or 1.2 percent of total economic output.

Unlike 2006, when Israel's economy was roaring ahead at an annualized rate of 6 percent prior to the war in Lebanon, growth was already slowing this year. Before the conflict, the central bank forecast a slowdown in growth to 2.9 percent in 2014 from 3.3 percent last year.

"If it will be completely quiet after the military operation ends like in 2006, 2009 and 2012, then the economy has proved it is quiet resilient to these kinds of shocks and the impact will be only one quarter," said Michael Sarel, former chief economist at the Finance Ministry.
'Painful collapse'
However, Sarel said there is a chance the operation could turn into a new Palestinian uprising, which would severely harm the economy.

Should the war end in the next week or so, the damage would be 0.25 percentage point shaved off growth this year, according to Ori Greenfeld, chief economist at the Psagot brokerage, who believes 2014 growth could be as low as 2.5 percent. The hit to consumer spending will be about 1.7 billion shekels, he said.

The loss of incoming tourism in the third quarter will be more than 2.2 billion shekels, 500 million of which will be to hotels, according to Shmuel Tsurel, director general of the Israel Hotel Association.

"Just a few weeks ago we were optimistic, on a path of growth and on the way to breaking the glass ceiling of 10 million tourist nights a year in hotels," he said. "We are going from record data to a painful collapse."

Typically, Israel's hotels are full in the summer but some parts of the country are experiencing occupancy rates of 30-40 percent or less, he said. Many tourists cancelled trips due to the fighting while many foreign airlines stopped flying to Tel Aviv for a few days last week after a rocket landed near the airport.

Israel's Manufacturers' Association estimates economic damage to factories at 820 million shekels so far, partly due to workers staying home or being among the more than 40,000 reserve soldiers called up due to the Gaza conflict.

"As a result of the operation, plants are suffering from a drop in production, a shortage of workers and more," said Zvika Oren, the group's president. "This damage is increasing as the operation continues."

Most of the optimism about a quick rebound stems from past experience and a relatively strong economy, in which foreign firms continue to thrive.

Chinese companies have bought Tnuva, the largest food firm, and crop protection maker MA Industries, while Intel is planning a new chip plant in the country.

"Foreign companies find the overall rate of return is high. Israel has a high quality workforce and high innovation," said Zvi Eckstein, dean of the school of economics at the Interdisciplinary Centre near Tel Aviv. "If there would be peace, it would be even better."

Still, the conflict comes in the midst of a rift between the finance and defense ministers over the military budget. The defense ministry wants a bigger budget but the finance ministry believes more money should be allocated to social spending.

The war "can cause bad policies down the road because it will increase defense spending but without maintaining the balance of raising taxes and cutting in other areas", Topf said.

"It's very popular to raise defense spending but it's hard to raise taxes or decrease civil spending," he added.

Ultimately, defense will get extra funds and that could cause the budget deficit to exceed a target of 3 percent of economic output this year and 2.5 percent in 2015. The defense ministry is reportedly seeking an additional 5 billion shekels in extra funding in 2015, which is opposed by the finance minister. Its base budget was 51 billion shekels in 2014.

Prior to the war, The Bank of Israel had said significant spending cuts and higher tax income of nearly 20 billion shekels was needed to meet the 2015 and 2016 fiscal targets.