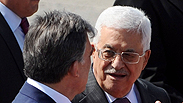 Abbas in Turkey for ceasefire efforts
Photo: AFP
A senior Palestinian official told Asharq Al-Awsat on Wednesday that Egyptian President Abdel Fattah al-Sisi told Palestinian Authority President Mahmoud Abbas to arrive in Cairo "with a unified Palestinian position."
Abbas is heading a delegation to Cairo that includes representatives from both Hamas and Islamic Jihad.
The senior Palestinian official said Egypt was willing to consider the Palestinian amendments to its ceasefire proposal if Hamas and Islamic Jihad agree to it as well. The Palestinian leadership was now in discussions with the two Gaza factions.
The Palestinian amendment to the Egyptian proposal includes a five-day ceasefire, during which the two sides will negotiate a more permanent agreement under Egypt's auspices while receiving international guarantees.
The document includes, among other things, Palestinian demands to remove the Gaza blockade, extend Gaza's fishing rights to "a reasonable area," cancel the buffer zone near the Israel-Gaza border, release the Shalit deal prisoners who were re-arrested for violating their parole and allow goods and funds into the Strip.
PLO leader Wasel Abu-Youssef said that "talks of a breakthrough are still premature."
The Hamas representative in Cairo, Mousa Abu Marzook, said that while the 2012 understandings should be the base of the truce agreement, the intra-Palestinian reconciliation had been intended to end the blockade. "There is no excuse to continue the siege that was implemented during the rift, after Hamas won the (2006) elections. Today the administration is in Abu Mazen's hands," he said.