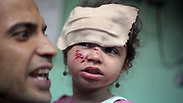 Palestinian girl wounded at UNRWA school
Photo: AP
At least 19 people were killed and some 90 wounded when IDF tanks reportedly shelled a crowded UN school in the Jabaliya refugee camp, where hundreds of Palestinians had sought shelter from the intense fighting, Gaza health officials and a UNRWA spokesman said Wednesday.
Starting at around 4:30 am, several tank shells hit the school compound, a few minutes apart, said the school principal, Fayez Abu Dayeh. He said shells hit two classrooms and a bathroom.
The IDF, in an initial response the incident, said militants near the facility had fired mortar bombs and Israeli forces had shot back.
"Earlier this morning, militants fired mortar shells at soldiers from the vicinity of the UNRWA school in Jabaliya (refugee camp). In response, soldiers fired towards the origins of fire, and we're still reviewing the incident," a military spokeswoman said.
Four of the dead were killed just outside the school compound, two in their home and two who were struck in the street after returning from pre-dawn prayers, their relatives said.
Abu Hasna, the UN agency spokesman, said the international community must step in.
"It's the responsibility of the world to tell us what we shall do with more than 200,000 people who are inside our schools, thinking that the UN flag will protect them," he said. "This incident today proves that no place is safe in Gaza."
Meanwhile the UN refugee agency expressed anger Tuesday night after it found a cache of rockets stashed at one of its schools in the Gaza Strip. This is the third time that rockets have been found in an UNRWA school in Gaza.
"We condemn the group or groups who endangered civilians by placing these munitions in our school. This is yet another flagrant violation of the neutrality of our premises. We call on all the warring parties to respect the inviolability of UN property," UNRWA spokesman Chris Gunness said in a statement.