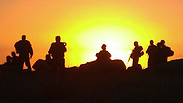 IDF reservists in southern Hebron Mount
Photo: Gilad Ashraf
The IDF will call up 16,000 additional reservist soldiers on Thursday, day 24 of Operation Protective Edge in Gaza.

These will bring the total of reserve soldiers called up for the Gaza operation to 86,000. A senior military source said the reservists will be called up "to give the army the time needed to complete the mission. We'll decided today where to place them and in which commands."

Meanwhile, fighting resumed in Saja'iyya on Thursday morning, where IDF troops were firing tank and machine gun fire at terror targets. Fighting is also ongoing in several areas in Jabaliya and in the south of Gaza.

Fifteen Palestinians seeking refuge at a UNRWA school in Jabaliya were wounded from shrapnel, 2 of them seriously, on Thursday morning when an IAF strike hit a nearby mosque, Gaza emergency services said.

Three Maglan soldiers were killed on Wednesday when an explosive device went off in a booby-trapped house in which the troops were operating. The senior source said the three - Staff Sergeant Matan Gotlib, Staff Sergeant Omer Hay and Staff Sergeant Guy Algranati - were killed when the house collapse as a result of the explosion.

"The Maglan fighters went into the booby trapped structure east of Khan Younis in a search for a tunnel opening. The explosive was planted in the first floor. Three soldiers were killed and 14 wounded when the house collapsed on top of them," the senior source said.

Special forces operating in Gaza (צילום: דובר צה"ל)

No IDF troops were hurt overnight Wednesday, but the troops faced several fire exchanges. In one of them, troops from Givati's Tzabar Infantry Battalion killed a terrorist who fired an anti-tank missile at them in southern Gaza.

The senior source said that "Hamas command apartments were attacked by the Air Force overnight."

He also addressed the two deadly incidents in the Gaza Strip on Wednesday that claimed the lives of Palestinian civilians: "The Jabaliya school incident and the Saja'iyya market incident are being investigation. In both incidents, (terrorists) fired at IDF troops the previous night and our troops returned fire. It may be that one of our shells fell in the market. We're checking videos and photos to compare."

More than 1,360 Palestinians have been killed since the fighting began on July 8. Fifty-six Israeli soldiers and three civilians on the Israeli side have lost their lives.

The development comes after another day of heavy fighting, with 116 Palestinians killed on Wednesday along with three Israeli soldiers.

The Associated Press contributed to this report.