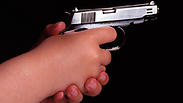 Gun-control effort in Washington state compared to Nazi Germany
Photo: Index Open
The Jewish Federation of Greater Seattle, which was the site of a mass shooting in 2006, has called for the resignation of a National Rifle Association lobbyist over comments he recently made comparing a gun-control effort in Washington state to Nazi Germany.

According to an audio recording of the no-on-Initiative 594 event in Silverdale, lobbyist Brian Judy said it staggers him when he meets Jewish people who are anti-gun, because he wonders if they have forgotten the Holocaust.

Gun Control

Gun right supporters insist that many more Jews could have survived Holocaust had they bore arms; ADL says rhetoric is 'absurd,' 'offensive.'

He specifically referred to Nick Hanauer, a Seattle venture capitalist and entrepreneur who founded Washington Alliance for Gun Responsibility.

Hanauer is a major backer of the initiative, having contributed $385,000. It would require background checks for all gun sales and transfers in Washington, with exceptions for gifts within a family, antiques or for certain sporting activities.

"Now he's funding, he's put half a million dollars, toward this policy, the same policy that led to his family getting run out of Germany by the Nazis," Judy said. "You know, it's staggering to me .... It's, like, any Jewish people I meet who are anti-gun, I think, 'Are you serious? Do you not remember what happened?'

"And why did that happen? Because they registered guns, and then they took them. And now ... you come to this country and you support gun control?"

David Goldstein, a liberal Washington state political blogger, posted the recording online this week. He said Tuesday that his source wanted to remain anonymous. A spokesman for Washington Alliance for Gun Responsibility declined to say whether it had made the recording or given it to Goldstein.

Bruce Danielson, a candidate for Kitsap County prosecutor who attended the July 23 event, confirmed to the Associated Press on Tuesday that Judy had made the remarks. Judy did not return a call or an email from the AP seeking comment.

In 2006, a disturbed gunman opened fire in the Jewish Federation's offices in Seattle's Belltown neighborhood, killing one woman and wounding five.

"Eight years ago today, the Jewish Federation was the target of a violent attack by an individual harboring dangerous falsehoods about Jews – falsehoods that continue to exist on the fringes of our society," the organization said in a statement Monday.

"It is deeply offensive for anyone to suggest that Jewish supporters of gun violence prevention have 'forgotten' the history of our people."

The organization also called it "an ignorant distortion" to suggest that Jews could have fought back in any meaningful way Nazi war machine if their guns hadn't been confiscated.

Some researchers have said Adolf Hitler actually loosened gun restrictions for most of the German population, though the Nazis confiscated weapons from Jews.

Goldstein said he found the remarks especially concerning to the extent they might serve as a "dog-whistle" to white supremacists. "When you're saying a bunch of rich Jews are taking away your guns, that's dangerous," he said.

Danielson, who is best known for his 2012 effort to unseat state Supreme Court Justice Steven Gonzalez, said he found nothing offensive in the remarks. Another attendee, Silverdale water district commissioner and real estate agent Marcus Hoffmann, said he recalled the comments generally but not in detail.

"To me it seems like it's completely blown out of proportion," Danielson said. "I'm not hypersensitive to it, but I am sensitive. I didn't see it as offensive in any way, shape or form. He wasn't making light of that or in any way disparaging them."