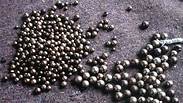 Metal marbles (Archive)
Photo: IDF Spokesman
A shipment of humanitarian aid for the Gaza Strip that arrived from Turkey to the Ashdod Port on Wednesday included hundreds of small metal marbles that could be added to an explosive device to increase the range of its blast and make it much deadlier.

Security at the port found the marbles inside one of the shipping containers, among medicine, clothing and food. Security officials have yet to decide whether to confiscate the marbles or not.

Sources at the port said the owner of the container claimed the marbles were meant for a chocolate machine that was also in the container.

The government of Turkey has been sending aid to the Palestinian population in Gaza since the beginning of Operation Protective Edge.

A Turkish Airlines plane with food and medicine for Gaza landed at Ben Gurion on Wednesday. Sources in Israel denied reports that claimed the plane's cargo hall contained a large shipment of IDF uniforms.

The Customs Authority said in response: "The owner of a food container that arrived at the Ashdod Port and was meant for the Gaza Strip declared, among other things, that his container includes a chocolate-making machine. Small metal marbles were found inside the machine, that the importer claims are used for the production of chocolate. The issue is being carefully examined by the Customs Authority and we will issue an update when we've made a decision."

Meanwhile, the IHH, that was behind the Mavi Marmara flotilla, said it intends to send another aid ship to Gaza in order to break the naval blockade on the Strip.