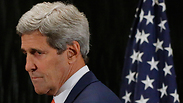 US Secretary of State John Kerry
Photo: AP
Secretary of State John Kerry said Thursday there is "no promise" of a negotiated cease-fire between Israel and militants in the Gaza Strip, but he said the US remains hopeful, Kerry told reporters in the India capital Thursday.
Prime Minister Netanyahu said Thursday that "We have neutralized dozens of terror tunnels and we are committed to complete this mission, with or without a cease-fire.
"Therefore I will not agree to any offer that does not allow the military to complete this important mission for the security of the people of Israel."
Tunnels have been at the heart of Israel's Gaza offensive, and are currently one of the central stumbling blocks to a ceasefire, with Israel demanding forces remain in Gaza to take out the tunnel system which threatens Israel's southern communities and army bases.
"We've never stopped working toward the notion that a cease-fire at some point is essential," Kerry said.
"Yes, the United States remains hopeful that it is achievable. And sooner is better, because of the needs to get to the table and begin negotiations that could ultimately, hopefully resolve issues.
"There's no promise in that - I want to make that clear - no promise in that," he said. "But I think everybody would feel better if there was a bona fide effort to try to see that out."
The violence is now in its fourth week and has killed over a thousand Palestinians living in Gaza and several dozen Israeli troops fighting there.
President Barack Obama is meeting with congressional leaders to discuss many pressing foreign policy issues.
The meeting comes amid fighting between Israel and Hamas and a new round of US sanctions on Russia. Obama is also facing tests in Iraq, where an Islamic insurgency has made big gains, and in Afghanistan, where political troubles are delaying the signing of an agreement to keep US troops there after this year.
Republican lawmakers have been sharply critical of Obama's handling of some of these issues. Senate Minority Leader Mitch McConnell is among those meeting with the president and said ahead of the discussion that he believes Obama's foreign policy will leave future presidents "to deal with a more dangerous world and with fewer tools to meet the threats."
Reuters and the Associated Press contributed to this report