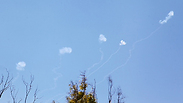 Iron Dome downs rockets over Sderot
Photo: Motti Kimchi
Hamas and Gaza factions broke the ceasefire agreement with Israel and renewed rocket fire at Israel Friday morning, as well kidnapping an IDF soldier and killing two others.

Meanwhile, Palestinians have reported massive clashes with the IDF in southern Gaza, and said heavy artillery fire was taking place in the Rafah area. The number of Palestinians killed in the attack shelled southern Gaza on has risen to 50, the Gaza health ministry said.

Medhat Abbas, director of the Ministry of Health, said: "Over 50 were killed and 220 wounded in Rafah."

Befor and after the ceasefire collapsed, rockets and mortars rained on Israel. At around 2 pm rockets were fired at Sderot and two of them were intercepted over the rocket battered city. Half an hour later two additional rockets fell in open area near Sderot.

At around 12:30, a rocket salvo was fired at southern Israel. Three rockets exploded in open areas in the Eshkol Regional Council and Iron Dome missile defense battery shot down two rockets over the Merhavim Regional Council. No injuries were reported as a result of the attack.

At 10:03am, two hours into a 72-hour ceasefire that went into effect, a mortar fired from Gaza at Kerem Shalom area in the Eshkol Regional Council fell within Gaza Strip. At roughly 10:55 another mortar was fired at the Eshkol region, it also failed to make into Israel.

At around 10:00 am IDF tanks shelled the part of the town of Rafah in southern Gaza, killing at 40 people were killed and over 200 wounded, said Health Ministry official Ashraf al-Kidra and Gaza police spokesman Ayman Batniji.

An IDF spokesman said a heavy exchange of fire had erupted in the Rafah area, which are probably connected to reports of a kidnapping of an IDF soldier in the area Firday.

Israel accused Hamas and other Palestinian militant groups of violating the US and UN-mediated truce, but did not elaborate, amid Israeli media reports that gunmen had fired at Israeli soldiers in the Rafah area.

Hamas spokesperson Mushir Al-Masri said that "The next few hours will decide where things will go and all the options are open."

According to him, "Our rockets are aimed at Israel if the calm is broken."

Rocket fire from Gaza also continued overnight between Thursday and Friday striking mostly open areas in southern Israel until just moments before the 72-hour ceasefire took effect.

Additionally, the deaths of 5 IDF soldiers were cleared for publication Friday morning bringing the total IDF death toll of Operation Protective Edge to 61 while another 3 Israeli civilians have been killed by rocket and mortar fire.

Code Red sirens blared in the Shfela region at around 1am and Hamas claimed that they had fired on Tel Aviv. A rocket was shot down over Ramle and another two rockets hit open areas in central Israel.

Rocket fire continued in the regions bordering the Gaza Strip and two rockets hit open areas in the Sdot Negev and Merhavim Regional Councils after a volley of rockets was fired at 6:47am.

At 7:30am, an Iron Dome missile defense battery shot down two rockets after code red sirens blared in Ashdod, Gan Yavne, and the surrounding areas.

Just minutes before a 72-hour ceasefire came into effect at 8am, a rocket fell in an open area in the Hof Ashkelon Regional Council and three rockets were shot down in the Yoav Regional Council.
Death in Gaza
Heavy fighting also continued in the Gaza Strip overnight, bringing the total Palestinian death toll of Operation Protective Edge to 1459 with 8,400 wounded according to Palestinian officials.

Hours before the ceasefire was to take effect, 17 Palestinians were killed in Israeli strikes, including 10 people from the same family, said Ashraf al-Kidra, a Gaza health official. He said the family members were killed in an airstrike on their home in the southern Gaza town of Khan Younis.

Gaza police reported heavy Israeli tank shelling in northern and eastern Gaza, and the loud exchange of fire between Israeli troops and militants was audible throughout Gaza City. Tank shells landed on homes in the city, setting homes and shops ablaze.

Hamas fighters hit an Israeli tank with an anti-tank missile, Gaza police said, and then attacked Israeli troops who came to evacuate the tank crew. Clashes continued into the early morning hours, police said.

The Israeli military said it was looking into that specific incident.

The IDF announced that 50 terrorist targets had been hit throughout the Gaza Strip overnight including Hamas rocket launchers that were hit by a joint operation involving the Navy and IDF ground troops.

Soldiers of the Paratrooper Brigade killed two militants as they emerged from a smuggling tunnel and the IAF hit operational headquarters of Islamic Jihad killing two more terrorists inside.

Also overnight, the Givati Brigade was responsible for finding and destroying two shafts leading to smuggling tunnels, the IDF's main target in the recent operation.

Roi Kais and The Associated Press contributed to this report