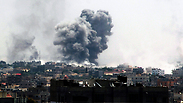 IDF attack in Rafah
Photo: EPA
Palestinian sources report dozens of Gazans have been killed and hundreds injured on Friday in IDF attacks since an Israeli soldier was abducted after a ceasefire was declared earlier around 9 am.

The IDF struck more than 80 targets in the Strip and hit 12 terrorists in southern Gaza. "Every minute you hear tank fire," said a Rafah resident, while another local compared the situation in Gaza to Europe in the 1940s: "It's like World War II, like an atomic bomb.

Related stories:

The Associated Press reported that IDF forces have expanded their operations in the southern Strip, under the cover of artillery fire and air strikes, in an attempt to find more information on the location of 2nd Lt. Hadar Goldin.

The Palestinian casualty count from the past day stands at 62, according to reports, with more than 350 injured. Since the beginning of the operation, Palestinians have reported more than 1,500 killed in the fighting – the majority of them civilians.

In the southern Strip the artillery fire on the location of the incident continued hours after the event. The IDF deployed dozens of tanks and artillery units. Israeli forces attacked targets in Rafah, Khan Yunis, and east of Gaza Cit.

According to reports, the artillery fire on Rafah has been severe and emergency services have reported difficulty in reaching the wounded and dead.

A hospital in Rafah was evacuated after heavy shelling in the area, starting at noon. Residents of the city received calls asking them to stay in their homes while IDF forces try to locate terrorists.

Yoav Zitun contributed to this report.