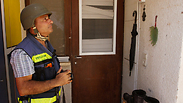 Kerem Shalom
Photo: Ido Erez
Alone on the Gaza frontier: Kerem Shalom residents live without peace
Feature: Residents of kibbutz on Gaza Strip-Israel-Egypt border do not lose faith despite rockets, mortar shells; take an in-depth look at life in one of Israel's most threatened and isolated communities, and why some people chose to make it their home.
KEREM SHALOM - "IDF troops uncovered an extensive tunnel near Kibbutz Kerem Shalom" screamed a report that was banned for publication in the days leading up to Operation Protective Edge. It's doubtful that anyone realized back then the extent of the threat posed by the underground tunnels dug under Gaza and into Israeli communities near the border fence.

In a visit to one of the smallest communities surrounding the border, a kibbutz home to 30 families, we found only a handful of residents still there. Fear had driven most of the families far away from the explosions and the soldiers keeping guard over the entrance to the kibbutz trapped in the border triangle of Israeli-Gaza-Egypt.

Ahead of weekend, more and more people began making their way back home. "Those who are outside (of the kibbutz) feel anxiety, not everyone understands that an almost-full kibbutz is waiting for them here," said Amit Kaspi, a member of the community's First Response Team and the Deputy Security Coordinator at Kerem Shalom.

"There are those who think that there's nothing here and that everything has been destroyed. We send them photographs and try to convince them to come here."

Kaspi feels encouraged from the homecoming residents. "Children also returned and in two days we doubled our numbers - we now have over 20% of the residents back, that more than 30 people."

But what are they looking at in the long run? "We're nervous and alert because of the tunnels, fear is that they will remain even after the operation ends," Kaspi explains.

The Kaspi family, including Amit, his wife Sharon and their three children, Niv (14), May (12) and Stav (5), made the kibbutz their home 10 years ago.

Kibbutz Kerem Shalom, belonging to Eshkol regional council, fell apart in 1995 after its members abandoned it, but was then reestablished in 2001 – ever since, it has been subjected to ongoing mortar fire attacks and rockets. Security tensions aren't new for the residents. In 2006, Gilad Shalit was captured just near the kibbutz's entrance.

However, the fear from events of recent weeks seems to be of a new kind. On Friday, the kibbutz came under fire from mortar shells as 2nd. Lt. Hadar Goldin was captured near the border area. In two weeks, the kibbutz will mark 12 years to its reestablishment, but it is unclear if there will be much reason for celebration, even if Operation Protective Edge ends by then.

Quite a few families who are staying with relatives or friends, and enjoying a brief respite from the attacks, asked not to be interviewed. Others agreed to share their reasons for choosing Kerem Shalom as their home, and told as well of their feelings, concerns and of the decision-making process of when to return home. What experiences are the residents from the corner of the country undergoing?
The Matari family
Daniel (27) has been living on the kibbutz for five years, with his wife and one-year-old daughter, who both left for a short period of refreshment.

"I stayed here so I could take care of the kibbutz's petting zoo, among other reasons," he said. During Operation Protective Edge, a kid goat was born on the kibbutz and the residents decided to name him Tzuk ("Cliff" in Hebrew, as in "Operation Strong Cliff", the literal translation of the Gaza operation), but he died several days ago.

"He was born during the operation and died during the operation, Matari said. "I was called up for military service, and a couple of days before that couldn't find Tzuk. When I entered the petting zoo, I saw the corpse – the horse probably trampled him during one of the Code Red sirens."
The Cohen family
Liron Cohen (36) has been living on the kibbutz with his wife and two children for the past three years.

"We searched for a small communal kibbutz that's still its early stages because we wanted to feel as if we were part of its founding.

"We wanted a high quality of life for our children and found it here – despite all this mess around us. We went through Operation Pillar of Defense here. And that's not something that deters me. Why should I move? This is our home."

His wife and children are temporarily staying with relatives in Modi'in. "They shouldn't be exposed to what's happening here."

Cohen was also called up for army service, and during his breaks at home, he works in gardening in the kibbutz. After the community's tractor was hit by a mortar shell, Liron volunteered his all-terrain vehicle to continue with the work.
The Kissin family
Ronnie Kissin (48) has been living on the kibbutz for four years, along with her husband and four children. They moved to the kibbutz shortly after Operation Cast Lead.

"I find this place amazing," Ronnie said. "We're not always in war here. Next to my house, I have ficus trees and tree owls. Where else could you find that? You drive in the fields and see deer and fawns. I'm here because of the nature. I can't live in the city."
The Hashai family
Sigal Hashai (40) works at an after-school activity club, and moved to Kerem Shalom shortly after Operation Pillar of Defense with her son, an IDF soldier.

"I knew what I was getting myself into. I came here for visits before I moved and fell in love with the area, the people, the serenity and tranquility. It's something that I had missed in the city."

Sigal lives next to a house that suffered a direct hit from a mortar shell. "My house was also damaged. But it doesn't faze me."
The Karni-Hadas family
Bruriah Karni-Hadas was among the few remaining people that stayed in the kibbutz with her children Arbel (5), Roded (7) and Lotan (12). Hadas has been living in Kerem Shalom for the past 10 years, along with her ex-husband.

"We have been trying to turn this situation into a memorable experience. We're throwing one long sleepover party in the protected space. Occasionally, we go somewhere during the weekend for a break and then return home.
The Bendor family
Miri and Benny Bendor moved to the kibbutz in 2012. "We fell in love with the people, the place. Our children settled in very quickly."

Their children, aged 7, 13 and 17, did not feel affected by the security situation and during the operation wandered between Rosh Hanikra, Eilat and Lod.

"Later on, we'll go to Mitzpe Ramon. We feel like refugees," Miri said.
The Golani and Manor family
Stella Golani (49), mother to 9-year-old Lihi, and Uzi Manor (54), moved to Kerem Shalom three years ago.

"We weren't afraid," Stella said. The knifing incidents that take place in center Israel scare me much more. My daughter went to first grade and someone pulled a knife on her at school.

"I told myself that this is where it ends, and that we need to search for a new place. I don't regret it for a minute. This is my home."