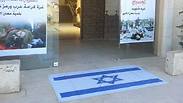 The flag at the entrance to the Ma'an city hall
Citizens arriving at the Ma'an city hall in Jordan are greeted with an Israeli flag spread on the floor and the demand to step on it.

The flag was placed right at the entrance in condemnation of "Israel's acts of massacre in Gaza," thus "forcing" anyone entering the building to step on it.

"We saw fit as a local council to put the flag of the Zionists at the entrance to the building, so every person in Ma'an will step on it," the mayor said.

"It's the least we could do to express our support of the resistance in Gaza and our feelings on the tragedy the people there experience."

In addition to the flag, signs have been placed on either side of the entrance dealing with the suffering of the residents of Gaza. The signs said, among other things, "Step on the usurper Zionists' flag. Gaza - the honor of Arabs and symbol of pride."

Many anti-Israel and pro-Hamas protests have been held in Amman and other places in Jordan since the beginning of Operation Protective Edge.

The participants of those protests - many of which have been organized by the Muslim Brotherhood - even tried to storm the Israeli Embassy in Amman, but security forces stopped them.

The government of Jordan constantly condemns Israel's operations in Gaza, which it called "cruel aggression and collective punishment against citizens."

Jordan has expressed its support of the Egyptian ceasefire proposal and stressed that a long-term solution to the confrontation must be based on negotiations, at the end of which there will be two states for two peoples.