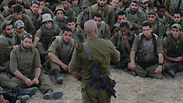 Ghassan Alian talking to his troops
Photo: IDF Spokesman
He never saw it as a conclusion, but according to the events on the ground, it seems that Golani Brigade commander Colonel Ghassan Alian has already concluded his duties in the toughest sector of the IDF's Operation Protective Edge – the Gaza City neighborhood of Saja'iyya.
The brigade commander was wounded by shrapnel in the first stage of the ground operation, but returned to Gaza as fast as he could.
"(The fighters say) that they are waiting for the next mission and are already asking when they are going in. At the moment we are all return to fitness and everyone wants to get into a battle procedure has been to finish what we started three weeks ago."
Golani fighters have been operating in recent weeks in the northern Gaza Strip. According to the IDF, it has so far destroyed four tunnels and dozens of shafts and eliminated some 130 terrorists. "The division has until completed every mission it was given," said Alian, even as the IDF redeployed some troops from areas in which they have been fighting.
"In Saja'iyya we encountered a most complex enemy. During the fighting, unfortunately, we also had casualties and no small amount of injuries," said another brigade commander.
Saja'iyya, once home to Ahmed Jabari (the head of the Hamas military wing killed by Israel in 2012), is known as a bastion of terrorism, a strategic fortress terrorists and the "doorway" to the Hamas-built underground city. The army estimated that this neighborhood had the highest concentration of tunnels. The homes there are connected to one another via the tunnels, in which are hidden rockets and large numbers of weapons. Two ancient mosques there were used as hiding places and a launch site for rockets.
The most serious incident was that involving an attack that killed seven soldiers, when their outdated armored personnel carrier (APC) became bogged down in Saja'iyya and hit by an anti-tank missile.
According to Alian, "Learning in combat means that we improve from one stage to the next. The fact that the brigade took casualties and injuries just gave us more motivation and fighting spirit. You could say that on that night (of the attack on the APC), even with having to treat some of the injured – the brigade continued to push forward to fulfill its missions."
Now, Alian said Saturday evening, "the brigade is ready to complete outstanding missions. Even during an action, we are scouring the area to locate terrorist tunnels.
"Today, during talks with troops who have already left the battlefield I heard them say that they are waiting for the next mission and are already asking when they are going in. We accept the embrace of the people of Israel and the local residents, which gives us motivation and a boost to keep going until the end."