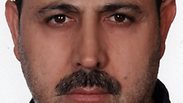 Mahmoud al-Mabhouh
Photo: AFP
The IDF and Shin Bet attacked a building in Jabaliya on Saturday night, killing Hamas operative Ahmad al-Mabhouh, the nephew of Mahmoud al-Mabhouh, who was inside.

Ahmad al-Mabhouh served as an engineering and destruction officer in Hamas. Among other things, he was responsible for hiding rockets before they were launched at Israel, preparing complex explosive devices and planning armed attacks against Israeli targets.

His uncle, Mahmoud al-Mabhouh, was a senior figure in Hamas, who was killed in Dubai in January 2010. He was behind the abduction and killing of IDF soldiers Avi Sasportas and Ilan Sa'adon during the First Intifada.

Hamas has yet to release information on Ahmad al-Mabhouh's death.