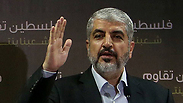 "Allah helps Hamas leader Khaled Mashal"
Photo: AFP
Allah helps Hamas leader Khaled Mashal, who is staying in a seven-star hotel. This is the sardonic message for Hamas from General Dhahi Khalfan, the former Dubai police chief who in 2010 became a media star in the Arab world - and in the eyes of Hamas – for exposing Israel's alleged involvement in the killing of Muhammad al-Mabhouh, and for attacking Israel and then Mossad chief Meir Dagan.

But Khalfan, now the deputy commander of Dubai police, has chosen to disparage Hamas for its conduct during Operation Protective Edge, now in its 27th day.

In his Twitter account, which has grown drastically in popularity in recent months, Khalfan epitomizes the current bitter rivalry between Qatar, the Muslim Brotherhood and Hamas, and Saudi Arabia and Egypt, both fierce critics of Hamas. Khalfan is firmly in the camp of the latter axis, in which the UAE stands alongside Egypt and Saudi Arabia, and his dislike for the Muslim Brotherhood is reportedly well-known.
"Destroy or stop firing"
Khalfan also slammed the Hamas rocket attacks from the Gaza Strip, telling the group, "make the rockets devastating or do not launch them at Israel in vain." He added sarcastically: "Allah helps opposition leader (Khaled Mashal) who is staying in a seven-star hotel." He called on Hamas to "heed the Palestinian president, and stop the acts of heroism."

He also had sharp words for Hamas' ties with Turkey and Qatar, and the ongoing tensions with Egypt. "If the Arab and Islamic leadership had been given the Saudi king, things would look different, but Hamas handed the leadership to Qatar and Turkey. What did they expect? The only path for Gaza's residents is to give the governance to Fatah."

He also wondered, "Is there an intelligent man who would drop the great Saudi Arabia and bind himself to Qatar, apart from Hamas' dealers in resistance? Egypt fought for Palestine, but Hamas brands Egyptian military leaders as traitors who planned the coup" against ousted Egyptian president Mohamed Morsi of the Muslim Brotherhood.

He appealed to the Palestinians, saying that all the Arab countries that had been occupied in the past were freed because of the Arabs in the Arabian Peninsula: "Saudi Arabia will save you from disaster. Your dependence on Qatar is dangerous."

But Khalfan is equally clear about his disdain for Israel. In another tweet, Khalfan said that, "the killing of children in Gaza does not allow Israel to justify it as self-defense. Where is the International Criminal Court on Netanyahu's deeds? Where are the leaders of the Western democracies when it comes to the Israeli rampage?"

He demanded that Arab countries take legal action against Israel in the ICC, in the names of the Arab families, and if they meet with refusal "all Arab states must resign from the UN."