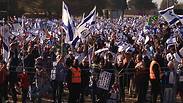 Pro-Israel demonstraters in South Africa
Some 12,000 people turned out Sunday in Johannesburg, South Africa at a rally in solidarity with Israel.

Wearing t-shirts that read "Israel we stand with you", and carrying Israeli and South African flags, the crowd - a mix of blacks and whites, Jews and Christians - gathered in Huddle Park to show their support as Israel entered the 26th day of its military operation in Gaza.

Jewish Agency Chairman Natan Sharanski said "this is another commendable show of solidarity by Jews in the Diaspora with Israel. The communities around the world are doing everything in their ability to strengthen their brothers in Israel."




The rally ended with renditions of both the Israeli and South African national anthems.

The South African government has been a fierce critic of Israel in recent years, and last month Jessie Duarte, the deputy secretary-general of the ruling ANC party, issued a statement firmly condemning Israel and comparing it to the Nazi regime.

"As we move towards the month of August and are reminded of (t)he atrocities of Nazi Germany, surely we must ask the people of Israel has the term 'lest we forget' lost it meaning," she wrote on July 10. "The state of Israel has turned the occupied territories of Palestine into permanent death camps."