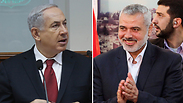 Prime Minister Benjamin Netnayahu / Hamas' Ismail Haniyeh
(Photo: EPA / Mark Israel Salem)
A unilateral humanitarian ceasefire in Gaza fighting came in effect from 10 am Monday and is set to last until to 5 pm, but officials warn Israel will "responds to any fire" during this time.

Palestinians immediately accused Israel of breaking the ceasefire by bombing a house in Gaza City, however the IDF claimed that the attack took place before the ceasefire came into effect.

The news of the ceasefire came after Israel decided it was stonewalling Cairo ceasefire talks after Hamas and other Gaza-based factions breached the last truce deal reached.

Palestinian sources claimed Israel had broken the ceasefire. Gaza Health Ministry spokesman Ashraf Al-Qidra claimed an eight-year-old girl was killed and 30 people wounded in an IDF strike on the Shati refugee camp in the northern Strip. According to the report, the strike took place after the humanitarian truce had gone into effect.

The IDF spokesman said the attack took place minutes before the ceasefire was to come into effect.

Later Palestinians reported that the IDF attacked the Nuseirat refugee camp in the central Gaza Strip. There are two wounded people at the scene.
Ceafire efforts
On Sunday, the Palestinians delegation to Cairo talks published their demands, with the different Palestinians factions consolidating behind a single list as Israel began withdrawing troops from Gaza.

A senior Israeli official close to talks sounded pessimistic and said Israel had pushed itself into a "trap" when it decided to cut off communications with the Egyptian talks.

"The fear is that because of the situation we will get stuck or we'll get forces into an agreement with little achievements in return. As it seems now, we are in the same place we were in operations Cast Lead and Pillar of Defense, a situation which undermines our deterrence – Israel is in a type of catch now."
Holding fire
Israel will hold fire until 7 pm Monday to facilitate the entry of humanitarian aid and allow some of the hundreds of thousands of Palestinians displaced by an almost four-week-old war to go back to home.

The announcement of the ceasefire, made first to Palestinian media, was met with suspicion from Gaza's dominant Hamas Islamists and followed unusually strong censure from Washington at the apparent IDF shelling on Sunday of a UN-run shelter that killed 10 people.

Coordinator of Government Activities in the Territories, Maj.-Gen. Yoav Mordechai, told Palestinian news agency Ma'an on Sunday about the humanitarian ceasefire. The ceasefire will apply to the entire Strip, except for the east Rafah area, where fighting was still ongoing after three soldiers died in a Hamas ambush there on Friday.

However, "if there's fire, Israel will respond," he warned.

"If the truce is breached, the military will return fire during the declared duration of the truce," the official said.

The official said east Rafah was the only urban area in which troops and tanks were still present, having been withdrawn or redeployed near Gaza's border with Israel over the weekend.

Israel is winding down its offensive in the absence of a mediated disengagement deal with Hamas. It says the military is close to completing its main objective of destroying cross-border infiltration tunnels from Gaza and prepared to resume strikes in response to any future attacks by the Palestinians.

Hamas, whose envoys are in Egypt for truce negotiations that Israel has shunned in anger at Friday's lethal ambush in Rafah, saw a possible ruse in the humanitarian truce announcement.

"The calm Israel declared is unilateral and aims to divert attention away from the Israeli massacres. We do not trust such a calm and we urge our people to exercise caution," said the group's spokesman, Sami Abu Zuhri.

Reports in the Lebanon based Al Mayadeen publication said Sunday night that according to Palestinian sources, the special PA-Hamas envoy in Cairo had passed on their ceasefire demands to an Egyptian intelligence official. The report referred to the meeting as positive and friendly.

According to the Lebanese publication, the Palestinian parties said that they will stand firm by the conditions passed on to Egypt. The Egyptians reportedly confirmed that they had received the demands, but said that they had yet to consider them at length. An additional meeting is due to take place Monday afternoon.

Israel launched its offensive on July 8 following a surge in Hamas rocket salvoes. It escalated from air and naval barrages to overland incursions centered on Gaza's tunnel-riddled eastern frontier but also pushing into densely populated towns.

Gaza officials say 1,788 Palestinians, most of them civilians, have been killed and more than a quarter of the impoverished enclave's 1.8 million residents displaced. As many as 3,000 Palestinian homes have been destroyed or damaged.

Reuters, Elior Levy and Roi Kais contributed to this report