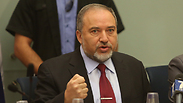 Foreign Minister Avigdor Lieberman
Photo: Gil Yohanan
Foreign Minister Avigdor Lieberman commented on Israel's future plans in Gaza as the operation seemed to be winding down, as Opposition Chairman Isaac Herzog (Labor) slammed the foreign minister, saying "because of Lieberman, Israel doesn't have a foreign policy."

According to Lieberman, a senior Security Cabinet member, there were three options for ending the conflict: A long-term deal, the destruction of Hamas or a limbo situation in which Israel maintains a potential presence in Gaza and responds to fire – "the third seems unlikely as it is simply irrelevant," he said in a live interview to Ynet.

Lieberman stressed that the operation was not yet over, and that Israel was still focusing on destroying Hamas' system of underground tunnels, some of which reach into Israel. According to him, once the mission is done the IDF will have to reassess the situation.

"We need to think about how we achieve quiet, take out the rocket threat and prevent (Hamas') rejuvenation."

When asked about what would happen should Israel choose to destroy Hamas, Lieberman said that one possible outcome would be a "UN mandate, like in the case of Kosovo."

The rightwing minister was a minority in the Cabinet when he voted against the previous ceasefire agreement. He claimed he reiterated this position to the Cabinet, but stressed that there was still a massive diplomatic effort to undertake.

"I think there has been a public onion achievement for Israel… Today everyone in the international community understands the need to demilitarizing Gaza, dismantle the terror infrastructure and neutralize the tunnels. You see this in the EU and in the US.

"Just the fact that there is no UN Security Council decision is the result of the US' support and diplomatic efforts," he said, possibly in an attempt to calm tensions with the US which have been running high after US Secretary of State John Kerry backed a Qatari-Turkish ceasefire instead of the Egyptian-proposal that both Israel and the Palestinians had preferred.

Concluding his comments and breaking from Netanyahu's official policy, Lieberman said that a two-state solution as is proposed by the international community "cannot assure Israel of its security, quite the opposite."

Also speaking to Ynet, Opposition Chairman Isaac Herzog slammed Lieberman, saying "because of Foreign Minister Avigdor Lieberman, Israel does not have any foreign policy during this operation.

"There is also no doubt that thanks to the foreign minister we have reached a diplomatic stalemate with the Palestinians. This is a bad government that needs to be replaced," Herzog said.