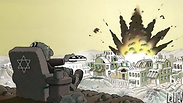 The controversial cartoon featured in the Australian newspaper
The widely read Australian newspaper Sydney Morning Herald has issued an apology for publishing a cartoon that Jewish critics said was blatantly anti-Semitic.

The cartoon, which was published on July 26, portrays a hook-nosed man wearing a skullcap and sitting in an arm chair etched with a Star of David, holding a remote control and watching the shelling of Gaza.

The newspaper claimed that the cartoon is based on photos published last month around the world, showing Israelis sitting on a hilltop near Sderot, eating snacks and watching the shelling of Gaza. Some of the reports claimed that the onlookers were amused by the sights.

The cartoon provoked a torrent of outrage among the Jewish community in Australia, and senior Jewish activists threatened to take legal action against the newspaper. Following the protests, the Sydney Morning Herald published an apology.

"The Herald now appreciates that, in using the Star of David and the kippah in the cartoon, the newspaper invoked an inappropriate element of religion, rather than nationhood, and made a serious error of judgment," the statement read.

"It was wrong to publish the cartoon in its original form. We apologize unreservedly for this lapse, and the anguish and distress that has been caused."