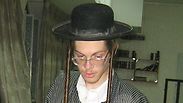 Rabbi Avrohom Wallis
Photo: Courtesy
Thousands of ultra-Orthodox Jews flooded the streets of Jerusalem on Monday night to mourn Rabbi Avrohom Wallis, the 29-year-old resident of Mea Shearim, slain earlier in the day in a terror attack in Jerusalem.
Wallis was a mashgiach (religious inspector) at the construction site where he was killed. He was working for the "Atra Kadisha" organization, making sure that any graves at the site were not damaged during the work. He was killed when one of the workers at the site, a resident of East Jerusalem, struck him with the large excavator he was driving.
Yossi, who lives near the construction site, said that the rabbi was "working all day here as an inspector for Atra Kadisha, tending to the sites at which Arab workers were digging in places where there were graves. One of the neighbors, who witnessed the scene, saw that at a certain point the driver of the tractor turned the bucket towards him and hit him with it. I myself saw the incident from outside. I heard the shots and saw the police run into the construction site."
The terrorist struck the pedestrian and carried on for a few hundred meters more, at which point it overturned the bus. The member of the security forces who killed the driver has been identified Ariel Tuito, of the "Nachshon" unit of the Israel Prison Service.
During the incident, Tuito fell off the excavator and was injured. He is currently hospitalized at the Hadassah Medical Center, Mount Scopus.
Rabbi Wallis was laid to rest Monday evening in Jerusalem. He is survived by his wife and six children.