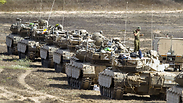 IDF tanks leaving the Gaza Strip.
Photo: AFP
IDF withdraws from Gaza as 17 rockets fired at Israel
Shortly before 72-hour ceasefire comes into effect, Hamas fires heavy barrage at southern and central Israel, and the Jerusalem area; senior IDF official says army finished destroying 32 known terror tunnels and operation's objectives have been achieved.
The IDF pulled its forces out of the Gaza Strip on Tuesday morning, day 29 of Operation Protective Edge, after Israel agreed to a 72-hour ceasefire that began at 8am. A senior army source said Tuesday morning that the IDF finished destroying the 32 Gaza terror tunnels it has known about.
The troops left as rockets were fired from Gaza at southern and central Israel, as well as the Jerusalem area, up until the very last moment.
IDF troops leaving the Gaza Strip (צילום: עידו בקר)
Shortly before 8am, Code Red rocket alert sirens blared through many areas of the country. Rockets were fired at the Gaza border communities, Ashdod, Ashkelon, Kiryat Malachi, Gan Yavne, Ma'ale Adumim, the Shfela area, Rishon LeZion and Rehovot.
Seventeen rockets were fired at Israel. Two rockets intercepted over Kiryat Malachi, one over Be'er Sheva, two over Ashdod and one over central Israel. Rocket shrapnel from one of the intercepted rockets fell in a main street in Jerusalem.
Four rockets fell in Netivot, three in the Jerusalem area, one exploded in an agricultural area in Sdot Negev, causing damage to greenhouses, two fell in Ashdod and one landed in an open area in central Israel. One of the rockets hit a house in Bayt Sahur near Bethlehem. Light damage was also caused to six houses in Sdot Negev from mortars.
By the time the cease-fire went into effect, some 3,300 rockets had been fired at Israel. Israeli forces destroyed at least another 3,000 rockets on the ground - but Hamas has an equal number left for future use, IDF spokesman Peter Lerner said.
In Gaza, IAF warplanes staged at least five air strikes, none of which caused death or injury, before the truce took hold and the skies fell silent, AFP correspondents said.
Ahead of the ceasefire, the Israel Airports Authority closed the Israeli sky due to concern of a pre-truce rockets barrage. While no rockets were fired at Ben Gurion International Airport, 19 flights have been delayed.
Both Israel and Hamas agreed to the Egyptian initiative, which stipulates that further discussions will take place in Cairo to try and reach a permanent agreement.
Political sources in Jerusalem said Monday night that, "Israel supports the Egyptian initative, Israel wanted a ceasefire without preconditions; today the tunnel demolition was completed."
Israel was expected to send delegates to join talks in Cairo to cement a longer-term deal during the course of the truce. The security cabinet was expected to convene on Tuesday to discuss the Egyptian-suggested ceasefire and Israel's next move.
Despite withdrawing troops from Gaza, a senior IDF official said "we won't release troops, we'll leave them in the field outside the Strip. The situation will be examined on the ground," adding that "Hamas is far from the troops' positions, and we haven't seen its police force coming out at night. If they open fire - we'll respond. As far as the IDF is concerned, Operation Protective Edge doesn't end at 8am."
The IDF attacked 4,800 terror targets during the operation, killing 900 terrorists. During the operation, 82,000 reservists were called up.
"We're prepared with brigade combat teams outside the Strip and we'll see what happens in the next 72 hours and act accordingly," the senior official said.
"Hamas' armed wing, its tunnels and its firing capabilities were significantly hurt, unexpectedly for Hamas," he said. "The objectives of this operation have been achieved, and there's a feeling of success among the troops. We have to see if Hamas tries to surprise in the coming days. There's good reason to believe the calm that will be achieved would be thanks to our operations."
IDF spokesman Lieutenant-Colonel Peter Lerner said the army overnight destroyed the last of 32 tunnels located inside Gaza and which had been dug by Hamas for cross-border attacks at an estimated cost of $100 million.
Israeli officials say, however, that some tunnels may have gone undetected and that the armed forces are poised to strike at these in the future.
A senior Hamas official abroad, Ali Baraka said Monday that "the ball is now in Israel's court. The Palestinian delegation concluded in its meeting with (Egyptian intelligence chief) al-Tohami that Egypt will invest significant efforts against Israel to declare a ceasefire within the next day."
At the same time, the military wing of Islamic Jihad said there would be an escalation in its "resistance activities" in the following hours until Israel responds to its demands.
The Associated Press, Elior Levy and Attila Somfalvi contributed to this report.