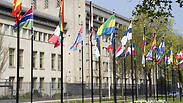 International Criminals Court at the Hague
Photo: Shutterstock
THE HAGUE - Palestinian Foreign Minister Riad al-Malki will on Tuesday visit the International Criminal Court in the Netherlands as he pushes for a war crimes case against Israel after nearly a month of fighting in the Gaza Strip.
The visit takes place shortly after Israel and the Islamist Hamas movement entered a 72-hour truce mediated by Egypt in an effort to pave the way for an extended ceasefire.
Israel and the Palestinians have traded allegations of war crimes during the Gaza assault, while defending their own actions as consistent with the international law.
Related stories:
Malki asked the United Nations last month to end what he called Israel's impunity and said it "must be held accountable for its crimes."
Last week, the United Nations launched an inquiry into human rights violations and crimes alleged to have been committed by Israel during the offensive, amid a far higher civilian death toll on the Palestinian side.
The ICC, created more than a decade ago to prosecute individuals for war crimes, is a court of last resort, meaning that it will only intervene when a country is found to be unwilling or unable to carry out its own investigation.
Israel is not a member of the ICC and the court therefore has no jurisdiction to investigate. Jurisdiction could be granted in a UN Security Council resolution, but Israel's ally the United States would have the power to block any such proposal.
Gaza officials say 1,834 Palestinians, most of them civilians, have been killed in the war. Israel has countered that almost half those killed have been militants.
Israel says 64 of its soldiers and three civilians have been killed since fighting began on July 8, after a surge in Palestinian rocket launches.
Amnesty International on Monday appealed to the United States to halt transfers of fuel shipments to the IDF. It said there was mounting evidence of war crimes from both Israel and the Palestinians, adding that an ICC investigation was crucial in stopping the cycle of violations.
In the Netherlands, Malki is due to visit the ICC in the morning, the Palestinian delegation in The Hague said. He will later meet with Dutch Foreign Minister Frans Timmermans and give a news conference.