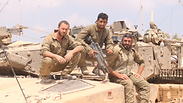 IDF troops outside Gaza, waiting for further instructions
Photo: Motti Kimchi
IDF troops, who were highly motivated during the fighting in Operation Protective Edge, expressed disappointment as the army finished withdrawing its forces from the Gaza Strip on Tuesday morning. "We could've done more," some of them said.

Tanks and APCs congregated in a gathering area on the Israeli side of the Gaza border, with troops waiting for further instructions and future deployment. Some of them were preparing to return to their posts in northern Israel and in the West Bank. An Armored Corp battalion has already started moving north overnight.

"We did a lot of growing up during the 29 days of fighting," one of the Armored Corps soldiers admitted. "We were under anti-tank missile fire and we were only a few meters away from terrorists who just wanted to hurt us. We're all motivated to bring the peace back to the residents of the south, but there's also the feeling of a missed opportunity."

"My first phone call was to mom and dad, who are worried," said Roey, one of the soldiers, who had access to a phone for the first time in two weeks after fighting in the central Gaza Strip. "The order to pull out was received with mixed feelings."

Ground troops coming out of the Gaza Strip also felt like something was amiss. "We were always taught to fight and completely eliminate the threats to the state," Yossi, a Golani soldier said. "On the one hand, we miss home, but on the other hand there was no decisive victory here. (But) as long as the calm remains, we could live with that."

The tanks and APCs will be loaded onto transporters in the coming hours on their way back to their original postings, and the fighters are already thinking about the day after.

"They say we're a spoiled generation, but we've proven now that you could count on us. At the end of the day, we did what the political leadership wanted," Ariel, a Golani fighter, said. "I wouldn't conclude the fighting just yet, only when the residents of the Gaza border communities can sleep peacefully, will I feel like we've won."