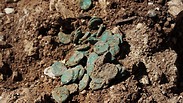 ancient coins from 2nd Temple period found
Vladimir Niihin
What would you do if the Romans were closing in on your home during the Great Rebellion, and you didn't want your life's savings falling into their hands? An owner of a house found in a previously lost Jewish town chose to hide his money in a ceramic box.

A total of 114 bronze coins from the time of the Great Revolt were discovered Tuesday in an archeological excavation of a lost Jewish town from the Late Second Temple Period.

The town was found several months ago when an Israel Antiquities Authority inspector found pottery shards at the site of a Netivei Israel Company project near the new highway (Highway 1) in between Tel Aviv and Jerusalem.

The coins dated back to the fourth year of the Great Revolt against the Romans, which eventually led to the destruction of the Temple on Tisha B'Av, 2,000 years ago.

"The hoard, which appears to have been buried several months prior to the fall of Jerusalem, provides us with a glimpse into the lives of Jews living on the outskirts of Jerusalem at the end of the rebellion," said Pablo Betzer and Eyal Marco, excavation directors from the Israel Antiquities Authority, in a press release.

"Evidently someone here feared the end was approaching and hid his property, perhaps in the hope of collecting it later when calm was restored to the region," they went on to say.



The home, which was built in the first century BCE, was wrecked in 69 or 70 CE as Romans began to overpower the Great the Revolt. People lived in part of the structure again around early second century CE. It was short-lived, as the town, located in Judea, was destroyed during the Bar Kokhba Rebellion. Three whole jars found rooted in the courtyard serve as proof.

The coins are pressed on one side with a chalice and the inscription in Hebrew "To the Redemption of Zion" and on the other sides are embossed with a design including a bundle of 'lulav' between two 'etrogs'. Around the design is written "Year Four" - of the Great Revolt (69/70 CE).

It's apparent that the people who lived in this settlement were very involved in both the Great Revolt and the Bar Kokhba Revolt, both notable rebellions against the Romans.

The Israel Antiquities Authority and Netivei Israel Company were looking into preserving the village remains as they are along the highway.