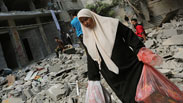 Palestinians survey the destruction in the Saja'iyya neighborhood of Gaza.
Photo: EPA
Residents in Gaza emerged from make-shift shelters Tuesday after a three-day ceasefire between Israel and Hamas went into effect at 8am. Many skeptically returned home, often to find destruction.

Others patrolled through the Gaza Strip attempting to estimate the amount of damage that had been caused over the course of the IDF's month-long Operation Protective Edge. Rehabilitation they say, can only be considered once the extent of the damage can be accounted for.

Red Cross engineer speaks to Ynet in an exclusive interview. (צילום: ניצן דרור)

In an exclusive interview with Ynet, Red Cross engineer Sara Badiei said that rebuilding infrastructure critical to providing clean water and electricity would talk years.

Related stories:

Badiei has been working in the east of the Gaza Strip since March. "It makes sense for people to see the extent of the damage," she told Ynet. "There's nothing better to explain how difficult the situation is than just that."

"I absolutely cannot say one side or another, I'm just an engineer," she continued. "But for example, I know that the people I work with haven't had electricity for six days now and they haven't had water for multiple days."

Wounded Gazans end up in Shifa Hospital. (צילום: רויטרס)

The hardest blow for the Gaza Strip, according to Badiei, has been to infrastructure supplying electricity to the population including the Strip's only power plant which was hit by an Israeli attack and could take over a year to repair.

Badiei cited that prior to Operation Protective Edge, enough electricity was provided to the Gaza Strip to meet some 50% of demand. Today however, Badiei said that most of the Strip was getting by with no electricity access whatsoever.