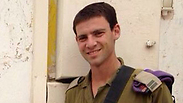 Deputy Eitan tried to save Hadar Goldin in combat.
The nation of Israel was left helpless and devastated by the official announcement Sunday night that Second Lieutenant Hadar Goldin, feared to have been captured by Hamas militants in the Gaza Strip, was in fact, killed in action last Friday.

However, the deputy commander of Goldin's company in the Givati Brigade was in combat with Goldin that morning and took drastic action by rejecting procedure in an attempt to rescue his friend. Deputy commander Eitan immediately leapt into to action, risking his own life by following Goldin and his capturers down a smuggling tunnel into which they had fled.

Amid a 72-hour ceasefire, Eitan returned from the Gaza Strip and visited Goldin's family in Kfar Saba for what one attendee said was, "a chilling and emotional meeting," lasting some 50 minutes.

Eitan's parents first visited the Goldin home earlier Tuesday morning and Eitan arrived in the afternoon directly from the Gazan front. Eitan brought the Goldins their son's belongings including his tefillin, prayer book, and notepad.

Goldin's mother Lea and his father Dr. Simcha, welcomed Eitan with hugs and thanks for his selfless attempt at following Hadar down the dangerous tunnel.

Related stories:

One of those present at the meeting, which included Goldin's brother and fiancée, said afterwards that, "Eitan is a modest man. For 50 minutes he told them about the entire unfolding of events in a quiet voice. He told them how Eitan was a valued officer and every one of the other officers wanted him to be in their squad, but he preferred to stay together with all the soldiers in order to be one of them."

"The parents and all others present simply sat in silence and listened to him. At the end of the meeting they thanked him for coming and telling them how the events unfolded and for going into that tunnel putting his life in danger."

Eitan entered the tunnel from where the militants had emerged that Friday and soon understood that Goldin's already dead body had been taken by the terrorists and dragged through the tunnel. Eitan and three soldiers under his command chased the militants through the tunnel for hundreds of meters before finding evidence that later helped the military rabbinate in concluding that Goldin had been killed.