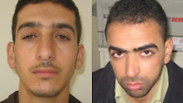 The two suspects yet to be caught.
A suspect in the kidnapping and murder of three Israeli teens in the West Bank was arrested on July 11, it was released for publication on Tuesday. Hussam Kawasmeh was arrested at a relative's home in 'Anata near Jerusalem.

Kawasmeh received funding for the terror attack from Hamas members in the Gaza Strip. He was arrested by Yamam, an elite counter-terror unit, following a tip from the Shin Bet.

After the discovery of the bodies of Gil-Ad Schaer, Eyal Yifrach, and Naftali Frenkel, the suspect left his home and went into hiding, relying on his family members, with the hope of reaching Jordan using forged documents.

During his interrogation he admitted that he led the cell that executed the attack – which included Marwan Kawasmeh and – who have yet to be captured. As leader of the group, Hossam raised the funds for the attack from Hamas operatives in Gaza.

He admitted to purchasing equipment, which he passed on to Marwan Kawasmeh.

During his interrogation, it was discovered that after the murder, Marwan arrived at his home and the two drove to the plot of land – which Hossam had purchased two months earlier – where they had buried the bodies.

Hossam continued to help hide his two accomplices to the kidnap and murder.

Kawasmeh's involvement with the cell which conducted the kidnapping and murder was discovered through a government response on Tuesday regarding an appeal to the High Court of Justice against the demolition of the three terrorists' homes.

Israel noted that there is administrative evidence which points to the near certainty that the three executed the kidnap and murder but that it could not divulge details because two were still wanted.