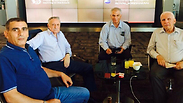 While the Israeli leadership remained mum on ceasefire negotiations in Cairo, Palestinian officials were quoted in Arab newspapers on Wednesday saying Egypt has offered to extend the current ceasefire to 120 hours, and that the issue of the disarmament of Gaza is not on the table.

"The negotiations are hard. The Zionist enemy wants to claim achievements and doesn't want to admit its defeat," PFLP member Maher al-Taher said, calling Israel's demand to demilitarize Gaza "a dream."

"We've yet to receive an official response from Israel on the demands we presented to the Egyptians," Hamas political leadership member Izzat al-Rashq said.

Related stories:

Al-Rashq stressed the Palestinian delegation is sticking to its initial demands: Lifting the Gaza blockade, releasing prisoners, building a seaport and an airport, as well as a safe passage connecting Gaza and the West Bank.

On the option of extending the ceasefire from 72 hours to 120, al-Rashq said that "this decision is for the factions to make and depends on the way the negotiations progress."

He claimed that "Israel wants to reach an agreement especially after its defeat to the resistance and our people's victory."

On Tuesday, Egypt told Hamas that the establishment of an airport, construction of a seaport, and the opening of the Rafah Crossing between the Strip and Egypt would not even be discussed.

On Wednesday, however, a Palestinian official was quoted in Al-Hayat as saying that Egypt has promised the Palestinian delegation to open the Rafah border crossing after the signing of the ceasefire agreement with Israel on the condition the Palestinian Authority is put in charge of the crossing.