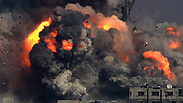 An IDF attack in the Gaza Strip during Operation Protective Edge.
Photo: EPA
Palestinian civilians attacked Hamas spokesperson Sami Abu Zuhri and beat him near Shifa Hospital in the Gaza Strip recently, according to a report on the Egyptian website Veto Gate.

According to the site, Abu Zuhri's attackers were expressing anger at Hamas, placing blame on the terrorist organization for inciting the IDF's Operation Protective Edge in which nearly 2,000 Palestinians were killed and some 10,000 homes destroyed.

The Egyptian report cited politician and spokesperson for the Sisi Supporters Front, Mohamed Abu Hamed, as saying that the Gaza Strip is ripe for a revolution to overthrow Hamas' rule over desperately impoverished Palestinians in the battered enclave.

Abu Hamed added that public anger with Hamas had been growing previous to Israel's latest military option in the Strip and said that Gazans live in fear of the militant regime.

However Nabil Zaki, a spokesperson for the Tagamoa Party, a left-wing political group in Egypt, took a slightly opposing position in the Veto Gate report, saying that Palestinians are partly responsible for their plight as they voted Hamas into power, and that anger from civilians would bring few results without expanding into a revolution.

Related stories:

Meanwhile, Abu Hamed took the opportunity to attack the Egyptian regime's political opponents in the Veto Gate report saying that Palestinians and the international community were coming to the realization that Hamas is no different than the "Muslim Brotherhood terrorists."

The Muslim Brotherhood was in power for a brief in Egypt before the latest in a string of revolutions and the eventual election victory of Abdel Fattah el-Sisi, who now heads a regime fiercely opposed to the Brotherhood which funded and politically aided Hamas in Gaza during its time in power.

Israel has continuously laid blame on Hamas for several rounds of conflict in the Gaza Strip, and was dismayed when Palestinians voted the terrorist group into a position of power before violently overthrowing the more moderate Palestinian Authority in Gaza.

It has been hoped on the Israeli side that Palestinian civilians will also see Hamas as responsible for the violence, but broad propaganda campaigns and suspected oppression of free speech in Gaza has made experts skeptical that a regime change could come from within the Strip.