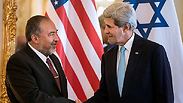 Kerry and Lieberman
Photo: AFP
Foreign Minister Avigdor Liberman accused Hamas of coercion on Thursday, after the organization's official denied reports of an extension to the ceasefire.

Speaking to US Secretary of State John Kerry overnight, Lieberman said the Palestinians' announcement that they would resume fire as soon the current lull ends was "coercive" and that "Israel will take this into account and is prepared for any eventuality."

Lieberman thanked Kerry "for the United States' unequivocal support for Israel during the discussion held yesterday at the United Nations General Assembly. Thanks to the concerted effort, the adoption of a binding anti-Israeli resolution was prevented."

Finance Minister Yair Lapid was also not impressed with Hamas' threats.

"They shouldn't test us. The IDF is prepared and ready, the Air Force is prepared and ready, and any rocket fire will be answered with heavy fire," he said at a press conference on Thursday.

"As far as I'm concerned, there's no different between the political and military leadership of Hamas. Whoever heads a murderous terror organization is fair game and we will get to them, and they understand that we will and they understand why they're still hiding underground and that no one is safe from us."

Lapid also spoke of the IDF officers and soldiers who fell in battle in Gaza.

"We paid a heavy price in this operation. It is painful to each and every one of us but I also feel pride in this pain. During the past month we all discovered a wonderful generation of young people growing here. It turns out the PlayStation generation are good fighters just as much as their parents were. They fought bravely against a murderous enemy, to ensure no rocket hits Sderot."

Cairo-based Hamas official Moussa Abu Marzouk and Hamas leader Ismail Haniyeh said Wednesday night that "there is no agreement on the extension of the truce."

Izzat al-Rishq, a senior Hamas member, told the Palestinian news agency that Hamas would condition any extension to the ceasefire on progress in the talks.

Highlighting the wide gap between the sides, a Palestinian official briefed on the talks in Cairo said he did not expect Israel's demand for disarming Hamas to be accepted.

"Nobody accepts demilitarization of the weapons in Gaza while the Israeli occupation is continuing and the siege on Gaza is continuing, and the crimes against our people are continuing," said Wasel Abu Yousef, stressing that he was expressing his personal view.

An Israeli official familiar with the talks in Cairo said Wednesday night that it was quite possible Hamas' statements are a PR stunt.

A senior cabinet minister asked how Israel would respond if Hamas does indeed renews fire said: "We'll fire back, a lot."

Netanyahu addressing the foreign press, Wednesday evening (צילום: אלי מנדלבאום ורויטרס)

The ceasefire began on Tuesday at 8am and was due to end on Friday morning. Hamas began a media blitz as soon as reports of an extended ceasefire began, with its spokesmen claiming that if their demands weren't met, especially the call to end the siege on Gaza, they would renew fire.

Hussam Badran, the group's spokesperson abroad, said "Hamas did not give up on a single demand it presented in Cairo to the occupation (Israel)."

Another spokesperson for the group, Ismail Radwan, said "there is not extension to the calm. We have yet to receive a response to our demands. The talk of extending the calm are premature, since we're still waiting for the results of the indirect talks in Cairo," noting that "we won't agree to extend the ceasefire if Israel dodges."

Hamas is not at a point in which it is trying to make it hard on Israel in the difficult talks in Cairo. Its way to do so is to try and intimidate by making militant statements on their readiness to return to battle, especially now that it knows Israel has already pulled most of its ground troops away from the Gaza Strip border.

In addition to that, Hamas is trying to show its public in the Gaza Strip that it was insisting on its demands and fighting for its principles on their behalf. While Egypt told Hamas two days ago that building a seaport or an airport were out of the question, its officials chose to raise that issue over and over again, at least publicly. Meanwhile, Fatah and PLO officials, who are heading the Palestinian delegation, remain quiet.

In his conversation with Kerry, the foreign minister also addressed Turkish Prime Minister Recep Tayyip Erdogan's recent accusations, comparing Israel's policies in Gaza to Adolf Hitler's actions.

"Israel is not interested in an escalation with Turkey," Lieberman told Kerry.

"Israel has so far refrained from responding to the harsh statements and accusations by Prime Minister Erdogan against Israel, and hopes that after the Turkish elections next Sunday these attacks will cease. If not, Israel will respond," he added.

The Associated Press contributed to this report.