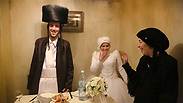 The second-place winner. 'Beginning of a lifelong commitment'
A picture of a newly married ultra-Orthodox couple in Jerusalem's Mea Shearim neighborhood has won the second place in National Geographic Traveler magazine's 2014 Photo Contest, out of more than 18,000 entries from around the globe.

"With thousands of pictures to review, judges found themselves wandering through stunning ice caves, mysterious desert views, and intriguing scenes from cultures throughout the world," the magazine editors wrote.

The three winning pictures were published earlier this week. The first place went to photographer Marko Korošec's "The Independence Day," which depicts a storm near Julesburg, Colorado.

The second-place winner was Polish photographer Agnieszka Traczewska's photo of Aaron and Rivkeh, a haredi couple, during their first meeting moments after their wedding ceremony.

"Mea Shearim, the ultra-Orthodox district of Jerusalem," the photo caption reads. "Newly married couple Aaron and Rivkeh will be alone together for the first time after their wedding ceremony. Their marriage was arranged by their families. The 18-year-olds met once to confirm the choice; since then they have been prohibited to meet or even talk."

צילום: ולדימיר רוטנשטיין ויוגב אטיאס

Ynet interview with Polish photographer Agnieszka Traczewska (Video: Vladimir Rotenstein and Yogev Atias)

"My picture presents a modest, intimate moment," Agnieszka Traczewska told Ynet. She has been capturing moments in the haredi world for seven years now, and says that over the years she has managed to get a deeper glimpse into this fascinating world.

Jewish Celebration

Dan Shapiro shows strong bond with haredi leader Rabbi Heshin, dances at his daughter's wedding. Video becomes viral.

"For me the fact that it was an arranged marriage, that those youngsters of 18, they are seeing each other for the second time in their life, was simply unbelievable," she said.

"The moment I captured was when the couple was saying goodbye to the groom's mother, and they were just exploding with emotions. And there was everything there – there was shyness, there was expectation, there was excitement. Maybe there was a fear."

Traczewska was surprised that the picture was selected for the completion, "because it is a very humble picture. This is a very modest scene. There are only three characters in a thin room and it represents an extremely insular story. For somebody who is not familiar with the haredi customs, in fact it doesn't mean anything. But at the same time, I had a feeling that there is a kind of a tornado of emotions."

One of this year's judges, National Geographic Traveler Director of Photography Dan Westergren, shared his thoughts on the second-place winner:

"Photography is a powerful tool for showing the ways that people around the world are clearly different but in many ways the same. The Orthodox fur hat and wedding dress are clues that this picture was taken in a very distinctive place. But the smile and laughter of the bride and groom indicate that these are teenagers reacting to a new situation.

"When I look at the image I can't help but think about the nature of love and marriage around the world. Here is a scene that in many parts of the world could be a young couple on their first date. Because of the clothes they are wearing I know that this is not a lighthearted encounter but the beginning of a lifelong commitment. Any photograph that can make me think that much deserves to be a winner."