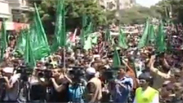 Hamas-organized rally in Gaza
Hamas says that if its demands are not met it will renew fire at Israel the moment the current ceasefire ends. The comments came as an Egyptian source told AP that the Palestinian delegation to the ceasefire talks in Cairo had hardened its position after Hamas and Islamic Jihad leaders arrived.
Meanwhile, in Gaza, Hamas was trying to create an image of victory two days after the 72-hour ceasefire came into effect. Thousands arrived on Thursday with green Hamas flags to a demonstration in support of Hamas and the Palestinian delegation to Cairo.
Hamas-organized support rally ( )
An Egyptian security official, who spoke on condition of anonymity because he was not authorized to talk to the media, said the Palestinian delegation's stance had hardened after the arrival in Cairo of Hamas and Islamic Jihad leaders from the Gaza Strip.
He said Azzam al-Ahmad, the leader of the delegation and the representative of Western-backed Palestinian President Mahmoud Abbas, had threatened to withdraw from the talks if the two militant groups do not show more "flexibility," adding that the delegation, which was supposed to leave Cairo on Thursday, would stay through the weekend.
Palestinian delegates could not immediately be reached for comment.
"Indirect talks are ongoing and we still have today to secure this," an Egyptian official said when asked whether the truce was likely to go beyond Friday.
Gaza rally
One of the main speakers, Hamas spokesman Mushir Al-Masri, urged the Palestinian representatives in Egypt - "don't come back without our conditions and demands. Work to get them with all of your might, in spite of the occupation."

The demonstration was organized by Hamas as a part of its psychological warfare and its attempt to create the impression it won the battle, much like former prime minister Ismail Haniyeh's speech on Tuesday.

Al-Masri continued hurling threats at Israel, after Hamas officials said there was no agreement to extend the ceasefire on Wednesday evening.

"We support the resistance, we support the Izz ad-Din al-Qassam Brigades, we support more firing at Tel Aviv and we support the tunnels," he said.

He was photographed saluting the "resistance" and clarified: "The war is not over yet."

"We tell the settlers - don't go back to your homes if Netanyahu doesn't agree to the resistance's demands," Al-Masri added. "We stress that the demands of the Palestinian people are legitimate demands. We call on Egypt and Arab countries and the international community to adopt these demands."

Al-Masri insisted fighters are "in good shape" despite the nearly monthlong war and still had tunnels extending into Israel that could be used for attacks if Hamas' demands are not met.
Gaza in ruins as talks continue
Meanwhile, a video was posted on social media showing a drive through past the wreckage in the Gaza streets. The video shows what was left of the Strip after a month of bombardments.

According to UNRWA, 10,690 houses were destroyed in the operation, In addition, 485,000 Palestinians turned into refugees as a result of the bombings and the IDF's warnings to many Gazans to leave their homes.

Very little is known of what happens behind closed doors in Cairo, where Israel and the Palestinians are holding indirect negotiations to reach a ceasefire agreement that would bring Operation Protective Edge to its official conclusion.

The tough and threatening statements coming out of both sides could indicate difficult negotiations, but it appears both Israel and Hamas will have to eventually compromise on a few of their initial positions.

Hamas, as predicted, would publicly announce these concessions, but its representatives already know some of the demands they presented in Cairo are unacceptable - not to Israel nor to Egypt.

On Wednesday, the Palestinian delegation held a second meeting with the Chief of Egyptian Intelligence, Mohammad Fareed al-Tuham, where it was made clear to them that building sea and airports is not on the agenda at the moment, and that control of the Palestinian side of Rafah crossing will be in the hands of Mahmoud Abbas.

Israel has given general requirements: calm and demilitarization. Although a complete demilitarization is not expected, the country insists on establishing an international body that will handle the issue. This will require creativity and originality, which is why officials are striving to find a formula – or the politically correct term – that will give a feeling of the beginning of a process that will end with the disarmament of Hamas in Gaza. One way or another, Israel must collect an achievement in this field.

A similar case is that of the seaports. Israel defines it as a "psychological threshold demand" of Hamas, and although no one believes that it will be accepted in full, officials may come up with a formula which will define the issue as part of a "future development."

The Associated Press contributed to this report