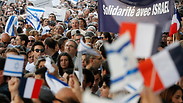 צוק איתן צרפת פריז הפגנה הפגנות
Photo: Reuters
An Israel solidarity rally was held last weekend in Paris. According to the local police, it was attended by some 4,500 people. According to the organizers, there were 6,000 participants, both Jews and non-Jews.

It was a large demonstration which we can only welcome. It's true that the city's Jews took their time getting organized, on the fourth week of the fighting in Gaza, but as we know, it's better late than never.

Standing in Solidarity

From Guatemala to Zurich, pro-Israel activists gather to show their support for Israel during the Gaza conflict.

So far, there seems to be no problem. But the truth is that there is a problem. There are more than 600,000 Jews living in France today, about half of them in Paris. At the most, 6,000 of those 300,000 living in the French capital participated in the rally.

Not exactly encouraging numbers, to say the least, because even if we deduct the small children and elderly people, there are still about 150,000 Jews in Paris who were capable of taking part in a show of support for the state where many of them have not only relatives, but also apartments.

Six-thousand out of 150,000 is four percent. As the Americans would say, it's not something to write home about. It's hard to take pride in these numbers.

I know that many Jews in France, not only in Paris, are living in fear today. They avoid wearing a skullcap, they don't go to synagogue and they ponder whether they should send their children to the Jewish schools, which anyway look like fortresses.

Because of the Muslim gangs, they are even afraid to go see a movie about with a Jewish theme, like "Victor Young Perez," which tells the story of a Tunisian Jewish boxer who became the world flyweight champion and was murdered in Auschwitz.

But I really can't understand the fear to participate in a mass protest which was approved by the authorities and therefore guarded by the security forces.

It's disappointing. Very disappointing.

Earlier, in New York, there was another solidarity rally. Some 8,000 people gathered for that protest. It seems nice, but here too – and even much drastically – it can be seen as a mixed blessing.

There are two million Jews living in the Big Apple, which means that every fourth resident is member of the Jewish people. And among those two million, about 170,000 are former Israelis, as the emigrants are called today.

So let's assume that not every Jew in New York is connected to Israel or is among its supporters. It happens. Moreover, many of them have never visited Israel anyway and have no plans of visiting the country. This happens too. You can't make every single Jew feel a connection to the Jewish state.

But what about the former Israelis? Only few of them came to express their support for the state which although they abandoned at some stage, for certain reasons, most of them were born and raised in it, it's where their roots are, it's where they still have relatives and friends, it's where their first language came from and it's the home of the soccer teams which they still support.

The Jews of New York, after all, have no reason to fear an attack by Muslims. Like I said about Paris, it's disappointing. Very disappointing.