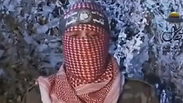 Hamas military wing spokesman, Abu Ubeida
Egypt and the Palestinian delegation to Gaza ceasefire talks are working franticly to reach a deal which will extend a ceasefire in Gaza set to expire Friday morning. Israel's delegation will return to Cairo later Thursday night after conferring with Prime Minister Netanyahu in the hopes of preventing renewed hostilities.
Meanwhile, Hamas military wing spokesman, Abu Ubeida, called on Palestinian negotiators in Cairo not to extend a 72-hour truce with Israel unless their demands, in particular for the opening of Gaza's port, were met and warned it was ready to engage in a long war.
Related stories:
Israel said it was ready to agree to an extension as Egyptian go-betweens pursued talks with Israeli and Palestinian delegates in Cairo on ending a war that has devastated the Hamas-controlled enclave.
Nonetheless, a senior political source told Ynet that Israel will "respond with strength" should Hamas make good on its promise to renew rocket fire. "Prime Minister Benjamin Netanyahu and Defense Minister Moshe Ya'alon have given the IDF directives for any scenario," the senior source said.
Palestinians want an Israeli-Egyptian blockade on Gaza lifted and prisoners held by Israel to be freed. Hamas's armed wing said it was ready to resume fighting unless Palestinian demands were met, and Israel said it would respond forcefully if attacked.
The Palestinian delegation met Egyptian intelligence officials late on Thursday. Israeli officials said Israel's delegates would return to Cairo in the evening having briefly returned home to confer with Prime Minister Benjamin Netanyahu.
"Indirect talks are ongoing and we still have today to secure this," an Egyptian official said when asked whether the truce was likely to go beyond Friday's 8 a.m. (0500 GMT) deadline.
"Egypt's aims are to stabilise and extend the truce with the agreement of both sides and to begin negotiations towards a permanent agreement to cease fire and ease border restrictions."
"We urge the Palestinian delegation negotiating not to renew the truce except after the acceptance in principle, particularly to the port (opening), and if there is no acceptance then we ask the delegation to withdraw from talks," Abu Ubeida, his face hidden behind a Palestinian scarf, said in a televised statement aired on the Qatari-owned Al Jazeera news network.
The official spokesperson of the Izz ad-Din al-Qassam Brigades joined a long list of Hamas members who have made similar claims, according to which, if the group's demands are not met, they will renew fighting, despite heavy Palestinian losses and massive destruction in Gaza.
He further said that Hamas' armed militants would destroy the IDF should it decide to reenter Gaza with forces and said the group would target Israel's air and sea ports in a bid to hit Israel economically.
Nonetheless, he said "we have given our political leadership the possibility to negotiate so that they achieve what the Palestinian people demand. "
Hamas rally
Hamas held on Thursday its first public rally since a cease-fire with Israel, with an official vowing the militant group would never give up its arms and will continue to fight until the Gaza Strip blockade is lifted.

The uncompromising rhetoric of the official, Mushir al-Masri, comes on the third and final day of a truce in the month long Israel-Hamas war and at a time when Hamas and other Palestinian factions are in Cairo indirectly negotiating with Israel for a permanent cease-fire and steps to lift the seven-year-old blockade of the coastal strip by Israel and Egypt.

In Cairo, Egyptian security officials struggled to bring the two sides closer together, with one official saying that Hamas and other Gaza militants were refusing to compromise.

Unlike Hamas rallies on previous occasions, only several thousand showed up for the event in the heart of Gaza City. The modest turnout was not necessarily a sign of waning support for the group, but most likely a reflection of the fatigue felt by most of Gaza's 1.8 million residents after four weeks of a ruinous war, as well as anxiety over whether the three-day truce will be extended.

"Our fingers are on the trigger, and our rockets are trained on Tel Aviv, Lod and beyond," al-Masri told the rally.

Cairo is mediating indirect talks between Israel and Hamas on extending the 72-hour cease-fire that expires Friday morning. Hamas has demanded the lifting of an Israeli and Egyptian blockade imposed on the coastal territory after the Islamic militant group seized power in 2007.

Israel has said the militants must disarm first, which al-Masri insisted was out of the question.

"The war is not over yet. Our men are still in the field, manning forward positions," he said. "It is out of the question that the weapons of the resistance should be on the negotiating table. They have not been put on the table and, God willing, they will never be."

Al-Masri insisted fighters are "in good shape" despite four weeks of fighting and still had tunnels extending into Israel that could be used for attacks if Hamas' demands are not met.

One of the Egyptian security officials, who spoke on condition of anonymity because he was not authorized to talk to the media, said the Palestinian delegation's stance had hardened after the arrival in Cairo of Hamas and Islamic Jihad leaders from the Gaza Strip.

He said Azzam al-Ahmad, the leader of the delegation and the representative of the Western-backed Palestinian President Mahmoud Abbas, had threatened to withdraw from the talks if the two militant groups do not show more "flexibility," adding that the delegation, which was supposed to leave Cairo on Thursday, would stay through the weekend.

Al-Ahmad, however, when finally reached by the AP late Thursday angrily denied that he had ever threatened to withdraw from the talks, calling the official's charge "baseless."

Hamas, as predicted, would publicly announce these concessions, but its representatives already know some of the demands they presented in Cairo are unacceptable - not to Israel nor to Egypt.

On Wednesday, the Palestinian delegation held a second meeting with the Chief of Egyptian Intelligence, Mohammad Fareed al-Tuham, where it was made clear to them that building sea and airports is not on the agenda at the moment, and that control of the Palestinian side of Rafah crossing will be in the hands of Mahmoud Abbas.

Israel has given general requirements: calm and demilitarization. Although a complete demilitarization is not expected, the country insists on establishing an international body that will handle the issue. This will require creativity and originality, which is why officials are striving to find a formula – or the politically correct term – that will give a feeling of the beginning of a process that will end with the disarmament of Hamas in Gaza. One way or another, Israel must collect an achievement in this field.

A similar case is that of the seaports. Israel defines it as a "psychological threshold demand" of Hamas, and although no one believes that it will be accepted in full, officials may come up with a formula which will define the issue as part of a "future development."

The war stemmed from the killing of three Israeli teens in the West Bank in June. Israel blamed the killings on Hamas and launched a massive arrest campaign, rounding up hundreds of its members in the West Bank, as Hamas and other militants unleashed rocket fire from Gaza.

On July 8 Israel began an air campaign on the territory and nine days later it sent in ground troops it said would target rocket launchers and cross-border tunnels built by Hamas for attacks inside Israel.

Nearly 1,900 Palestinians have been killed in the fighting, three-quarters of them civilians, according to the United Nations. Israel says some 900 Palestinian militants were among the dead. Sixty-four Israeli soldiers and three civilians inside Israel have also been killed.

Reuters, The Associated Press, Attila Somfalvi and Roi Kais contributed to this report