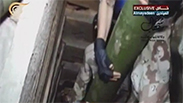 "All we have to do is open the hatch from below and then, with the help of Allah, we fire a rocket," a Palestinian Islamic Jihad operative boasts to Lebanese television station Al Mayadeen.
Al-Quds Brigade, the Islamic Jihad's military wing, boasts long range missiles
A reporter for Al Mayadeen was taken for a tour by the groups operatives and they explained how the tunnel was built and how the rocket fire works. "Here there is an opening that can be used in case of an emergency or escalation," one of the operatives explained.
"This is a strategic tunnel which is built for strategic attacks, like firing long-range missiles."